Take an Additional $10 Off AC Kits. Use Coupon Code ACKIT10

Home> News > San Diego Business Journal: Buy Auto Parts Ranks 75 The San Diego Business Journal Fastest Growing Companies
BUY AUTO PARTS IN THE NEWS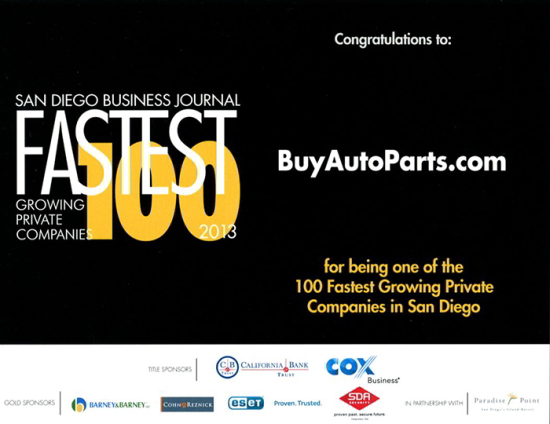 San Diego Business Journal: Buy Auto Parts Ranks 75, SDBJ Fastest Growing Companies
7/12/13 - San Diego, CA - Last night, at the award ceremony for The San Diego Business Journal Fastest Growing Companies of 2013, Buy Auto Parts was proud to be announced as the 75th fastest growing private company in San Diego. To be eligible for the fastest growing company list, Buy Auto Parts was required to produce revenue of $200,000 in 2010, and be a privately held company located in San Diego.
Buy Auto Parts growth in revenue from 2010 to 2012 has increased by 60.74%. We were able to grow and be ranked on The San Diego Business Journal Fastest Growing Companies of 2013 list because of the hard work of our employees. Our American based auto parts specialists make sure our customers get the parts they are looking for at unbeatable prices. Furthermore, our hardworking employees in the warehouse work long hours to make sure all the parts ordered get shipped out as quickly as possible. Most parts get shipped out the same day. This results in a great customer experience, which gets our customers' cars back on the road as quickly as possible at an extremely affordable price.
It is an honor for Buy Auto Parts to be listed on the fastest growing company list with so many outstanding San Diego companies, but we expect to drive past a lot of them next year. With continued focus on broadening our auto parts catalog and a steady increase in return customers, Buy Auto Parts anticipates we will be ranked even higher on The San Diego Business Journal Fastest Growing Companies list next year.
FOR IMMEDIATE RELEASE
BUYAUTOPARTS.COM MAKES SAN DIEGO BUSINESS JOURNAL FASTEST GROWING COMPANIES OF 2013 LIST
SAN DIEGO, Ca. . .BuyAutoParts.com, an online auto parts distributor based in Sorrento Valley has been named to The San Diego Business Journal Fastest-Growing Private Companies List for 2013. Three year growth of over 60% places BuyAutoParts.com at number 75 on this year's list.
"We have a growth model based upon investing in new products and cultivating the talent of each new employee we bring onboard," commented Dara Greaney, CEO of BuyAutoParts.com. "We believe in teaching the fundamentals of our business over an extensive training period so all of our employees are knowledgeable and able to provide the best service to our customers."
This year the company has begun providing a larger amount of performance upgrades in addition to their core product lines of replacement parts. These new offerings will be a major part of a continued growth strategy with performance turbochargers, clutch kits, tuning chips, and suspension systems as just some of the newest products. OEM and aftermarket replacement air conditioning, steering, fuel system parts and others will remain a large part of the business.
While earning their spot on this year's SDBJ Fastest-Growing List, BuyAutoParts was also named to The Internet Retailer Top 500 Guide™ for the first time in May at number 422, and the firm was also named to the Inc. 5000 List™ for the second straight year. The company ranked 1,803 in 2011 and moved up to 1,575 on the list that ranks the fastest growing companies in the U.S. in 2012. In addition, they ranked as the 30th fastest growing company in the San Diego metro area last year. Moving to a new 52,000 sq. ft. facility last June rounded out an extremely successful few years for BuyAutoParts.com.
Established in 1989, BuyAutoParts.com is a leading international e-commerce and wholesale distribution company based in San Diego, CA. Long before branching out into the world of retail internet sales, they have been providing high quality parts and excellence in customer service for over 20 years. The company began by remanufacturing steering parts, and today provides a full line of OEM new, aftermarket new, and remanufactured auto parts at wholesale prices. For more information please visit www.BuyAutoParts.com.

###