Home
Call to talk to one of our Parts Specialists
Limited Time Deal: Join the BAP Buyers Club and receive 10% off all orders and flat $25 next day air shipping: Click Here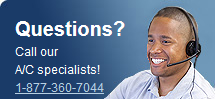 International Orders
International Customers, please review our international shipping policies for placing orders and to know more about Shipping, Payment, and Warranties.
Freightliner AC Compressor Parts
BuyAutoParts.com – Your #1 Source for Freightliner AC Compressors
Freightliner AC compressors are built for heavy-duty delivery trucks, pickup trucks and similar vehicle models. Unlike regular car AC compressors, Freightliner components are designed to fit larger, more powerful engines. They're extremely popular as a 3rd-party compressor model for many different trucks, from the Ford Fairlane of the mid-70s all the way up to today's Dodge Sprinter.
The Freightliner AC Compressor is the heart of your vehicle's air-conditioning system, and one of the most important Freightliner AC parts. The primary function of the Freightliner AC Compressor is to maintain the flow of the refrigerant in the air-conditioning system. Without the compressor, the entire AC system simply won't work. The compressor pump is driven by the engine's crankshaft through a pulley. This mechanical coupling ensures that the AC compressor runs only when the engine is running. A magnetic clutch is attached to the pulley at the input shaft of the compressor. The AC compressor clutch engages the compressor input shaft with the pulley only when the AC is turned on. The compressor maintains the requisite pressure difference between the high-pressure and low-pressure sides of the system by drawing the refrigerant from the low-pressure side and compressing it. As the pressure in the refrigerant increases, the temperature also increases. This high-pressure, high-temperature refrigerant is then passed into the condenser where it is condensed into a liquid. Common symptoms of Freightliner AC compressor problems include refrigerant leaks and a failure of the cooling mechanism. If your Freightliner AC compressor is malfunctioning, you should replace it as soon as possible to prevent your air-conditioning system from sustaining further damage.
Freightliner AC Compressor Best Sellers! Use Shop By Vehicle Above To Find Yours!
Freightliner AC Compressor

Freightliner AC Compressor

Freightliner AC Compressor
Browse Our Quality Selection of Freightliner AC Compressor Parts
If your truck needs a Freightliner AC compressor replacement, you've come to the right place. BuyAutoParts.com stocks Freightliner AC compressors for truck models dating back to 1972. With over 40 years' worth of truck compatibility to choose from, we're the one-stop shop for anyone looking to save money on their Freightliner compressor project. In addition to saving significant money with the part itself, you'll also avoid expensive labor costs. Some Freightliner AC compressor replacements can cost upwards of hundreds of dollars.
Our prices are ultra-affordable, and we stand by each Freightliner AC compressor we sell. Every part that leaves our warehouse is backed by a 1-year warranty, along with our Guaranteed Exact Fit promise. If your Freightliner AC compressor doesn't fit and perform like the original, simply send it back and we'll cover the associated costs.
In addition to AC compressors, we also have other Freightliner AC parts for sale. As one of the most trusted brands of truck parts on the market for more than 2 generations, Freightliner is a popular brand for truck owners everywhere. Feel free to browse our entire selection today. With our super-simple ordering system, you'll find a Freightliner AC compressor replacement and other air conditioning parts with ease. Thanks for visiting BuyAutoParts.com!