Take an Additional $10 Off AC Kits. Use Coupon Code ACKIT10

Your Search for the Perfect GMC Cat Back Performance Exhaust is Almost Over!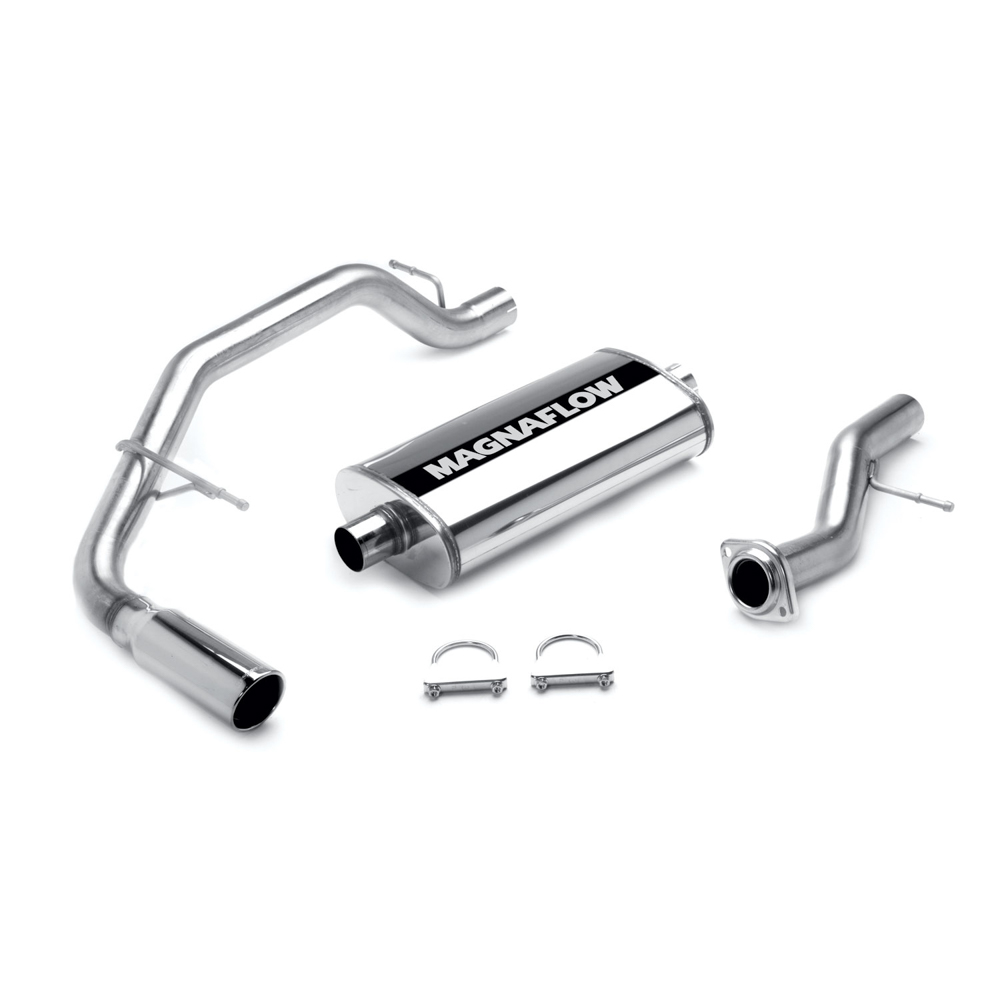 Your GMC pickup is the backbone of your business. You use it to transport all your tools to and from work so you need to make sure that it is always in running condition. Your customers are demanding and you have deadlines to meet. After all not everyone can deliver popcorn machines, cotton candy machines and party supplies to children's birthday parties. So it is up to you to make sure you get to your party appointments on time and not ruin a young child's party. One day after one of your best parties yet you start to wonder how you can improve the performance of your GMC so you can show up to the birthday parties and impress everyone. You think that the best solution would be to look more into your GMC cat back exhaust.
Your GMC exhaust system is piping used to guide reaction exhaust gases away from a controlled combustion inside the engine. The entire system takes burnt gases from the engine and includes one or more exhaust pipes. Depending on the design of the exhaust system, the exhaust gas may flow through a cylinder head and exhaust manifold, a turbocharger, a catalytic converter, or a muffler.
A GMC cat back exhaust system is an engineered exhaust system that is designed to improve horsepower and deliver that high-performance sound you are used to hearing from your GMC. The system is installed behind the catalytic converter; this replaces a stock or factory muffler and exhaust pipe arrangement. Since this system comes after the catalytic converter there is no disruption of exhaust gas emissions and so it does not change factory emission output. Increase in exhaust gas is at the heart of the cat back exhaust system because increase in airflow is achieved with the use of larger than standard stainless steel exhaust pipe and a direct-flow muffler design.
When looking into your replacement cat back exhaust you want to make sure you take into consideration both performance and how much sound you want your GMC to be making. If you want exhaust to flow more freely and your exhaust to rumble then you will want to get larger exhaust pipes. If you are looking for more power with greater exhaust noise then a cat back exhaust system with straight through mufflers will restrict exhaust flow less. You can also get a split tailpipe design where the exhaust pipe is split into two side-by-side pipes at the end.
Whatever you decide is the best choice to make you look even cooler to your customers we are here to help. We offer an exact fit GMC cat back exhaust for your vehicle. We know how important it is to you to make sure you are getting that added performance you desire as well as the rumble that will come with this new GMC cat back exhaust system. So do not delay and get started on this project right away before your customers look elsewhere for their party needs.