Take an Additional $10 Off AC Kits. Use Coupon Code ACKIT10

Halla Visteon Parts
Halla Climate Control Corporation (HCC) was established in 1986 as a result of the joint venture between the American-based Ford Motor Company and the Korean-based Mando Machinery Corporation. As the name implies, HCC is one of the leading suppliers of climate control systems. HCC is also into the production of EGR systems, radiators, throttle bodies and electronic wastegate actuators. In 1999, HCC's major shares were acquired by Visteon Corporation. In March 2013, HCC and Visteon merged and the newly-formed company was named Halla Visteon Climate Control Corporation (HVCC).
Within a few years of its establishment, the company became a key player in developing innovative technologies in climate control systems. HCC's successful services in the climate control systems industry was recognized by General Motors, which presented it with the "Supplier of the Year" award in 1998. The brand won the Grand Prize for value management in the millennium year. In 2004, the company was recognized by Forbes magazine as a "Best under a Billion" firm. HCC was presented with the IR52 Jang Young Shil Award for its variable swashplate (VS) compressor in 2006. It also won the 2007 Automotive News PACE Award for its experimental wave blade fan and shroud technology.
| | |
| --- | --- |
| | Before HVCC components hit the market, they go through various levels of testing and quality checking. The company's products are developed using cutting-edge technologies to ensure optimal performance. HVCC's research and development centers are keen on providing auto parts that exceed industry standards. HVCC's contributions to the sustainability of the environment fetched it the Green Management Award by KMAR for five consecutive years. HVCC uses renewable and recyclable materials in building their climate control systems and other components. |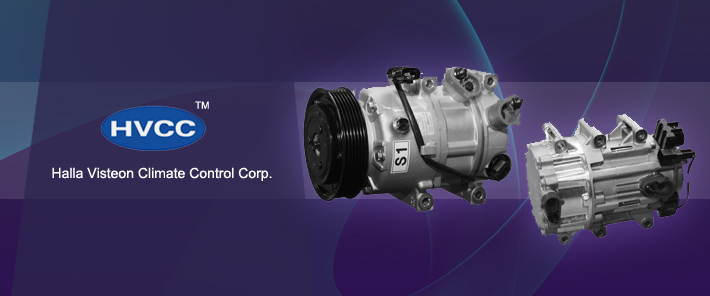 HVCC's line of climate control systems includes ultra-fit, super slim and straight air flow path HVAC (Heating Ventilation Air Conditioning) systems. The ultra-fit HVACs can be easily placed in the floor pan or body sides of a vehicle, where a lot of space goes unused. It can also be used as a rear auxiliary unit. The super slim HVACs have a lower weight and occupy a lesser space than conventional HVACs. The reduction in weight and size is due to the sliding doors which serve the purpose of both the air flow and temperature control rotary doors. HVACs with a straight air flow path design provide a minimal loss in the air pressure, thereby offering efficient cooling. The range of compressors offered by HVCC includes the HS, RS and VS compressors. For an easier control of the HVAC systems, the brand offers both front and rear controllers. HVCC has developed ionizers which focus in removing chronic odors from the passenger compartment. HVCC's cold storage evaporators are meant to maintain optimal cooling when the vehicle is idling or has been stopped.
BuyAutoParts.com is an official distributor of HVCC Parts. We include our personal one year, unlimited mile warranty on all HVCC Parts. We have our award-winning, US-based customer service department ready to assist you with any of your queries.