Take an Additional $10 Off AC Kits. Use Coupon Code ACKIT10

Husky Liners Parts
Shop Husky Liners Parts

BuyAutoParts.com stocks a wide selection of parts from Husky Liners' product-line at unbeatable prices! Husky Liners, established in 1988, is an American brand of automotive aftermarket components. It is based in Winfield, Kansas. The brand mainly manufactures custom-fit floor liners that protect the vehicles' front/rear seats and cargo area. Some of the other products manufactured by Husky Liners include heavy duty floor mats, custom molded mud guards, wheel well guards and aluminum accessories. All Husky Liners' products are manufactured in the USA and most of them carry a hassle-free lifetime guarantee.
The floor liners/mats laid over the vehicle's carpet protect it from getting damaged due to debris. The floor mats have a grooved surface to trap the mud, water and other debris. They are usually made of rubber or nylon or vinyl. Floor mats are commonly used in mainstream vehicles whereas floor liners are employed in heavy-duty automobiles. Floor liners can be chosen based on the style and color of the vehicle to enhance the overall appearance of the car's interior. Floor liners/mats can also be cleaned and re-installed.
| | |
| --- | --- |
| | Husky Liners adopts innovative measures to enhance the style of their floor mats and liners. Thorough research is done on the material used for the mats to ensure maximum reliability and durability. Husky Liners' range of products is manufactured using the FormFit Design™ which ensures that the liners fit the exact dimension of the vehicle they are designed for. The FormFit Edge™ prevents debris from entering the vehicle. The brand's StayPut Cleats™ technology helps keep the liners in place. |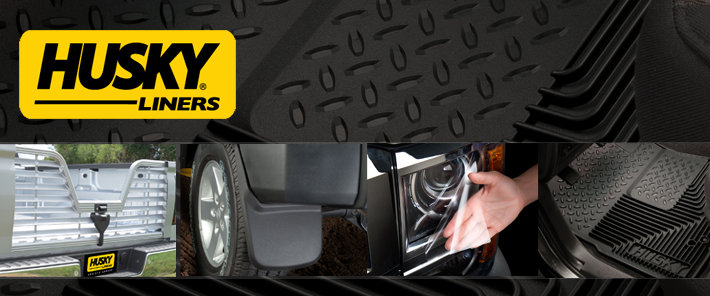 The brand's custom-fit floor mats are offered under the X-act Contour™ series of mats. These mats are soft yet durable and they have factory-fit look and feel. The WeatherBeater™ range of floor liners is suitable for all weather conditions and provides for an easy installation, removal and cleaning. The Classic Style floor liners incorporate a tread plate design that makes them durable and gives them the ability to withstand extreme conditions. Husky Liners' heavy-duty floor mats are built to resist the prolonged exposure to heavy-duty environment. These heavy duty liners' drivers' heel pads are thicker than those of other liners.
Husky Liners' GearBox® lets you store tools, objects and other materials in a safe and secure manner. The wheel well guards, as the name implies, protect the vehicle's wheel well from becoming dusty or corroded due to road debris. Husky Liners' wheel well guards are designed to withstand all weather conditions and are easy to install and clean. The brand's mud guards prevent debris from damaging the parts underneath the vehicle. The Husky Shield® Film is a thin, transparent film that protects your car's exterior from road debris and the weather. The brand's headlight guards help retain the brightness of your headlights by protecting them from sunlight and harsh road conditions. The line of aluminum accessories manufactured by the company comprises tail gates, contractor racks and sunshades.
We make it easy to purchase Husky Liners parts on our site. Once you place your order, you can be sure of receiving your purchase on time from one of the warehouses nearest to your location. Customer satisfaction is our foremost priority. Our US-based sales and support teams are here to answer your queries about our Husky Liners parts.