Take an Additional $10 Off AC Kits. Use Coupon Code ACKIT10

Technical Service Bulletin: Subaru Banjo Bolt TSB
A "banjo bolt", a hollow bolt employed in some turbocharger systems, controls the flow of oil into the turbo unit. The banjo bolt has a hole through its side and a meshed screen inside. As the oil travels through the bolt, it passes through the screen and then enters the turbo. The oil lubricates and cools down the turbocharger components, preventing them from an untimely failure. The reason you would need to change the banjo bolt is due to contamination of the screen. The banjo bolt should be changed as often as the oil filter, but is generally ignored. Just changing this $3 part regularly could save your turbocharger, and even engine, from costly repairs!
Changing out the banjo bolt is easy and will take about 5 or 10 minutes during an oil change. Failure to do this will clog the oil lines and starve the turbo of oil, causing it to seize up. We all want to find places to "cut costs" but this is one place where spending a few extra dollars can make a great difference in your car's efficiency.
Technical Service Bulletin (TSB) for changing the Banjo Bolt & Mesh Screen:
This technical service bulletin (TSB) applies to all Subaru vehicles equipped with a turbocharger. Turbocharged engines require proper maintenance especially when the vehicle is used under severe driving conditions, such as moderate to hard acceleration and engine braking on a somewhat regular basis.
In any case, it is recommended that the engine oil and filter be changed every 3,750 miles (6,000 km) or every 3 or 4 months.
In addition, the mesh screen which is located inside the banjo bolt, that secures the turbocharger oil supply pipe to the back of the right side cylinder head should be checked to make sure it is not clogged or restricted. This is especially important if the condition of the oil is questionable or if considerable time has elapsed since the last oil change was performed. If clogged or restricted, it will reduce or cut off the oil supply to the turbo, resulting in failure. The oil supply pipe should also be checked to make sure that there are no obstructions.
Note: The mesh screen is only available with a replacement banjo bolt.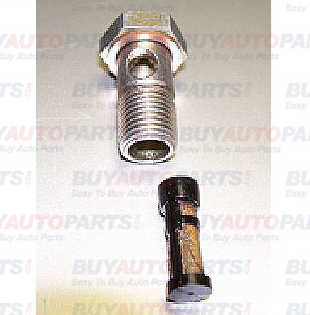 Make sure the mesh screen is installed in the proper direction. Incorrect installation will cut off the oil supply to the turbo.
Caution: Vehicle servicing performed by untrained persons could result in serious injury to those persons or to others.
Do not confuse the oil supply mesh screen with the Active Valve Control System (AVCS) union screw filter.
When the vehicle is used under severe driving conditions, the engine oil is consumed more quickly than under normal driving conditions due to a high intake manifold vacuum during engine braking and higher temperatures; the engine oil level should be checked at every fuel fill-up.
Buy Auto Parts Stocks a Line of Automotive parts!
Buy Auto Parts will get you the right fit for your vehicle if you select your automobile's right year, make and model. Coming with an industry-leading warranty, our parts are available at unbeatable prices. We also offer free shipping for purchases over $99. If you have trouble in locating your part, our support team is at hand to help you: call us at or leave us an email at [email protected]. You can browse through our wide range of throughly-tested OEM replacement and aftermarket parts for every make and model. We value your feedback on our services! Please feel free to leave us an online review.
"How To" Home | BuyAutoParts Home