Home
Call to talk to one of our Parts Specialists

International Customers, please review our international shipping policies for placing orders and to know more about Shipping, Payment, and Warranties.
FICM Introduction Part 1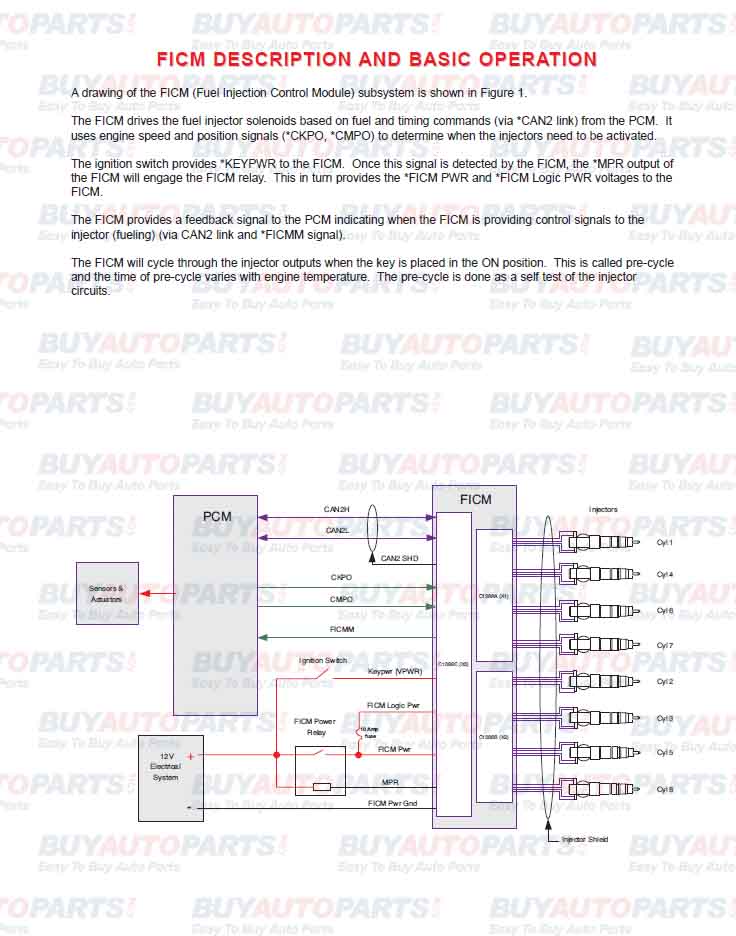 The above drawing shows the technical breakdown of how an FICM works.
The FICM drives the fuel injectors solenoids based on fuel and timing commands from the PCM. It uses engine speed and position signals to determine when the injectors need to be activated.
The ignition switch provides "KEYPWR to the FICM. Once this signal is detected by the FICM, the "MPR output of the FICM will engage the FICM relay. This in turn provides the FICM PWR and FICM Logic PWR voltages to the FICM.
The FICM provides a feedback signal to the PCM indicating when the FICM is providing control signals to the injector (fueling) .
the FICM will cycle through the injector outputs when the key is placed in the ON position. Thus is called pre-cycle and the time of pre-cycle varies with the engine temperature. The Pre-cycle is done as a self-test of the injector circuits.
"How To" Home | BuyAutoParts Home