Home
Call to talk to one of our Parts Specialists

International Customers, please review our international shipping policies for placing orders and to know more about Shipping, Payment, and Warranties.
FICM Introduction Part 3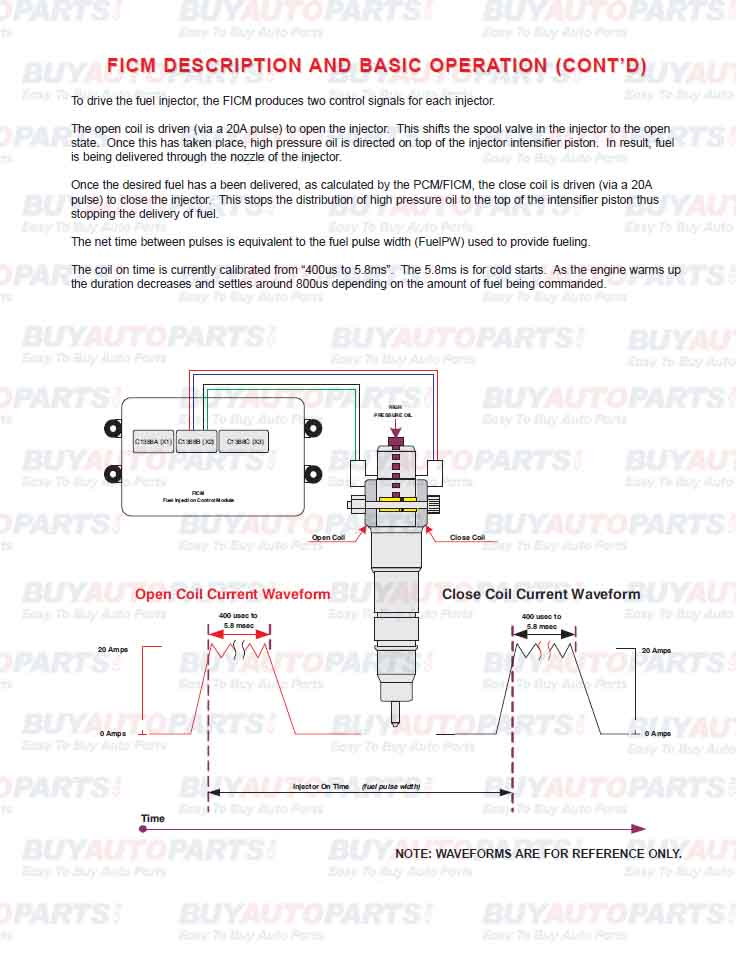 To drive the fuel injector, the FICM produces two control signals for each injector.
The open coil is driven (via 20A pulse) to open the injector. This shifts the spool valve in the injector to the open state. Once this has taken place, high pressure oil is directed on top of the injector intensifier piston. in result, fuel is being delivered through the nozzle of the injector.
Once the desired fuel has been delivered, as calculated by the PCM/FICM, the close coil is driven to close the injector. This stops the distribution of thigh pressure oil to the top of the intensifier piston thus stopping the delivery of fuel.
The net time between pulses is equivalent to the pulse width used to provide fueling.
The coil on time is currently calibrated from "400us to 5.8ms". The 5.8ms is for cold starts. As the engine warms up the duration decreases and settles around 800us depending on the amount of fuel being commanded.
"How To" Home | BuyAutoParts Home