Take an Additional $10 Off AC Kits. Use Coupon Code ACKIT10

Buyer's Guide: How To Buy a Mass Air Flow Sensor
How To Buy a Mass Air Flow Sensor
---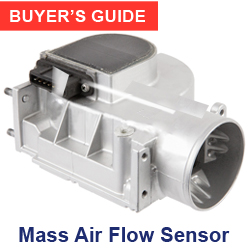 A failed mass air flow (MAF) sensor can put a hole in your pocket due to your vehicle's overconsumption of fuel. Understanding what your MAF sensor does can help you know its importance and in turn, make you inspect the problem sooner, if you notice any failure symptoms. We make it easy at Buy Auto Parts to find the right replacement mass air flow sensor for your vehicle. This buyer's guide helps you in learning the basic functionality and answers the questions you may have when purchasing a MAF sensor.
What does a mass air flow sensor do?
The mass air flow (MAF) sensor is an electronic sensor that helps in determining the amount/mass of air flowing into the engine. It sends the value of the mass of air measured to the Engine Control Unit (ECU). The ECU then regulates the amount of fuel injected into the engine to prevent the engine from running rich or lean. The MAF sensor is responsible for maintaining the perfect air-fuel ratio, thereby ensuring optimal efficiency of the engine. The mass air flow sensor's readings are combined with readings from other sources such as the oxygen sensor to efficiently maintain the perfect air-fuel ratio. Take a look at the engine snapshot of the mass air flow sensor reading here: Mass Air Flow Engine Snap Shot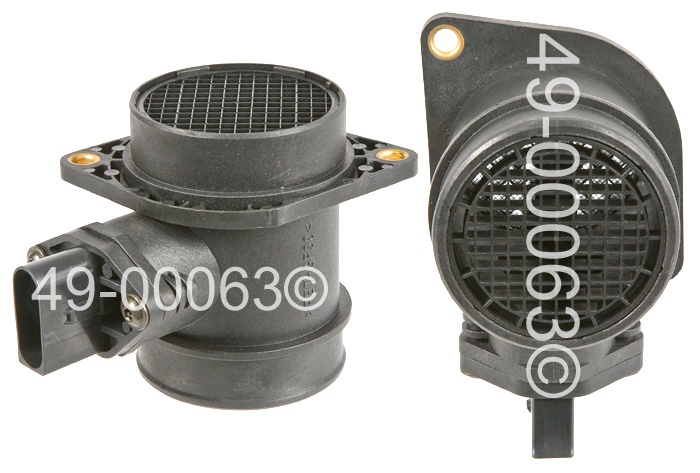 Finding Your MAF sensor's OEM Part Number
If for any reason you cannot find your mass air flow sensor by entering your vehicle's year, make and model, you can find the best MAF sensor for your vehicle by its Original Equipment Manufacturer (OEM) number. The OEM part number can be found directly on the part itself. You can also call a dealership with your VIN number, and they will provide you with the OEM part number. You can give one of our car specialists a call at 1-888-907-7225 for further assistance in purchasing your MAF sensor.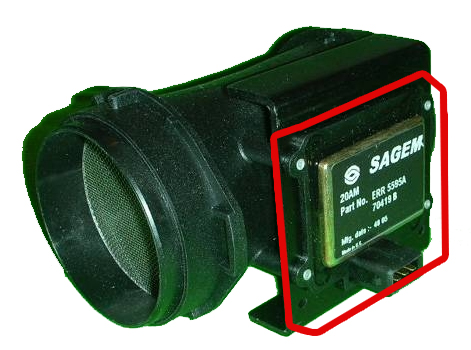 Direct-Fit or Universal-Fit
Direct-Fit Mass Air Flow Sensor:
The name of this style is pretty self-explanatory. These mass air flow sensors are designed to precisely bolt onto your application without any additional modifications.
Universal-Fit Mass Air Flow Sensor:
The alternative to a direct-fit style is the universal-fit mass air flow sensor which does require some minor modifications. This style fits hundreds of applications but you still need to confirm your application before purchasing. This style is recommended if your vehicle already has a universal-fit MAF sensor in it or if you are looking for a more cost-effective option.
Things to Include with your Purchase
Air Filter
Don't forget to inspect your air filters while replacing the MAF sensors. An air filter is responsible for purifying the outside air and sending it to the engine. Since the mass air flow sensor is located between the air filter and the engine, a failed filter will cause damage to the sensor. While replacing the MAF sensor, it is often recommended to inspect the air filter and replace it, if required.
Have a look at BuyAutoParts.com's shipping and warranty policies.
Frequently Asked Questions
How do I know that my MAF sensor is going bad?
One of the indicators of a faulty MAF sensor would be the Check Engine light on your vehicle's dashboard. A vehicle with hiccups and rough idling indicates that the car's mass air flow sensor needs inspection. Some other symptoms include poor starting ability and black exhaust smoke. If you find any of the aforementioned symptoms, have your mass air flow sensor checked and replaced, if needed.
Can I use the cleaning agents of the brake system or any other parts to clean the mass air flow sensor?
The sensor's membrane can be severely affected if other cleaning agents or compressed air are used. Cleaning agents specially meant for MAF sensors are always recommended.
Can I install the mass air flow sensor on my own?
This depends on how familiar you are with repairing the automobiles. However, the installation process is simple and includes the following steps:
a) Disconnect the sensor's negative battery cable, wiring harness and vacuum hose.
b) Remove the bolts and take the old sensor out.
c) Reverse the aforementioned steps to install a new MAF sensor.
Check out the tips to consider while installing the mass air flow sensor in the video below (Mass Air Flow Installation Tips).
I replaced my MAF sensor but even after that, the Check Engine light is glowing.
The Check Engine light might be turned off automatically in a few cycles of driving with the new sensor. However, if it does not turn off, you can do the following:
a) Have the code cleared with a suitable scan tool.
b) You can disconnect and reconnect the battery (this does not work in all automobiles).
I need assistance while buying my MAF sensor.
We have a full team of Auto Parts experts waiting to help you. Give us a call and we will be happy to help you in buying the right MAF sensor for your car.
Sales: 1-888-907-7225
Customer Service: 1-800-241-3197
View more FAQs and their answers in this link: How Much Does a Mass Air Flow Sensor Cost?
Mass Air Flow Sensor Installation Tips:
"How To" Home | BuyAutoParts Home