Take an Additional $10 Off AC Kits. Use Coupon Code ACKIT10

Oil Vapor Bleed Through Diagram
The motor or engine oil lubricates the parts of an engine, thereby protecting them from metal to metal contact. It also cools down the engine components and prevents them from an untimely failure. One of the most common problems with the engine is an oil-leak. The leaks lower the level of the engine oil, causing the engine to overheat.
This happens for a number of reasons and is potentially harmful to the car and the environment. The diagram below shows how the oil vapor bleeds through the engine. The red arrows represent the flow of the oil vapor.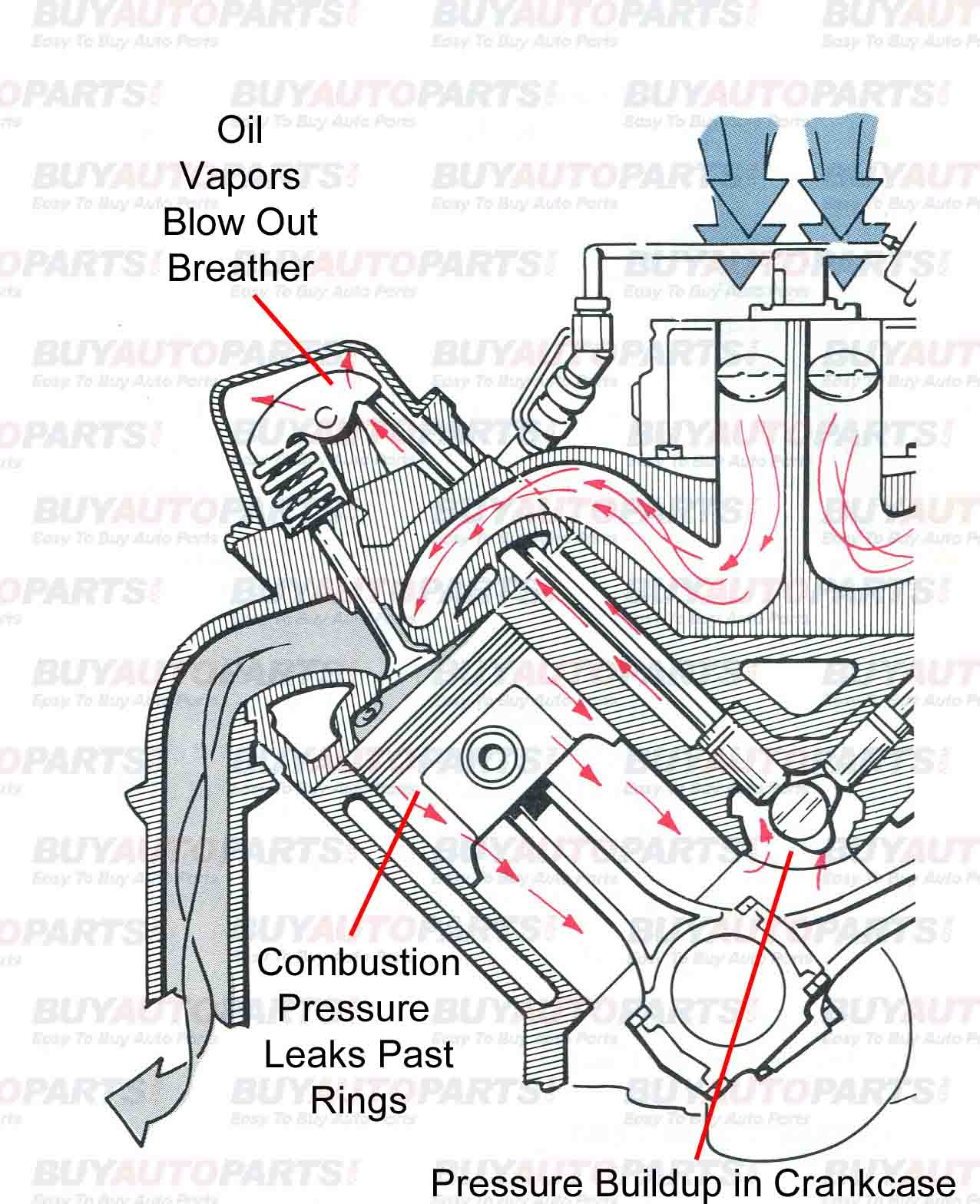 Some of the common causes of the engine oil leak are explained below:
Worn-out Pistons and Rings:
The engine oil will leak when the oil is forced past the pistons and rings. This may be due to excessive engine wear or over-filling of the crankcase oil or the age of the engine. One of the symptoms of this oil leak is a trace of blue color in the exhaust.
Bad Cylinder Head:
A cracked or bent cylinder head will let oil flow into the engine or the cooling system. Common symptoms include an erratically running engine and a loss of cylinder compression.
Damaged Valve Cover:
The valve covers may become loose or warped and allow oil to leak out between the cylinder head and the valve cover. An oil residue on the engine is one of the symptoms due to this.
Loose Spark Plug:
A loose spark plug will let pressurized oil leak out of the engine cylinder. This can be identified by a pool of oil around the base of the plug. Some of the other indicators include a reduced cylinder compression and a skip in the engine-firing sequence.
Get Genuine Automotive Parts at Unbeatable Prices here!
Buy Auto Parts stocks a wide range of OEM replacement and aftermarket parts for every make and model. To find the part for your car, simply tell us your car's year, make and model. Your order will be shipped from the warehouse closest to your location. We offer free shipping for purchases over $99 in the continental United States. Our products have been throughly-tested to meet or exceed industry standards. You can reach us on our support line at or leave us an email at [email protected], if you need help in choosing your part. Please feel free to leave us an online review. We value your feedback!
"How To" Home | BuyAutoParts Home