Home
Call to talk to one of our Parts Specialists

International Orders
International Customers, please review our international shipping policies for placing orders and to know more about Shipping, Payment, and Warranties.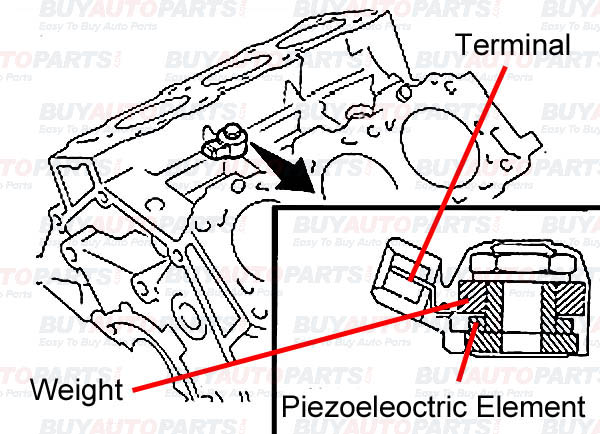 A knock sensor is designed to detect when the combustion in a car is not being properly controlled. It uses an internal element that is extremely sensitive to vibration and will detect when the pressure wave if the piston hits the cylinder wall before it is supposed to. When the sensor detects incorrect noise from the motor, it will inform the ECU (Engine Control Unit) regarding the issue. The ECU will delay the timing to protect the motor. The common term that mechanics use to describe this issue is "knocking", which literally means that a knocking sound can be heard from the motor. This sensor has been designed to act as if a mechanic was listening to the motor and keeping an eye on things for the driver.
The obvious symptom of a defective knock sensor is a "knocking" sound from the engine while driving at high speeds. You may also hear thumping noises that will get louder over time. Other common symptoms include vibration or shaking of the automobile, or engine misfire, when the vehicle is started. Acceleration problems, decreased fuel economy and increased emissions are also some of the effects of a malfunctioning knock sensor. A visible indication of a faulty knock sensor is the illumination of the Check Engine light. The issue with a knock sensor should be addressed immediately, as continuous pre-ignition can damage the pistons.
Purchase high-quality Knock Sensors at Buy Auto Parts
If you are looking to buy a genuine knock sensor, Buy Auto Parts is the right place. We will get you the knock sensor once you select your automobile's right year, make and model. Coming with an industry-leading warranty at unbeatable prices, our knock sensors are meticulously tested to meet or exceed industry standards. We also offer free shipping for purchases over $50. Your order will reach you on time, as it will be shipped from one of our warehouses close to your location. If you have trouble in locating your part, our support team is at hand to help you: call us at or leave us an email at [email protected]. You can browse through our extensive line of throughly-tested OEM replacement and aftermarket parts for every make and model.
If the info you need is not covered in this section feel free to send us a message in our support section.
"How To" Home | BuyAutoParts Home