Take an Additional $10 Off AC Kits. Use Coupon Code ACKIT10

The navigation repair "How To" section of our site is here to help when you need that little bit of extra knowledge to get your project up and running. From the list below select the video or article that is related to info for the product line desired.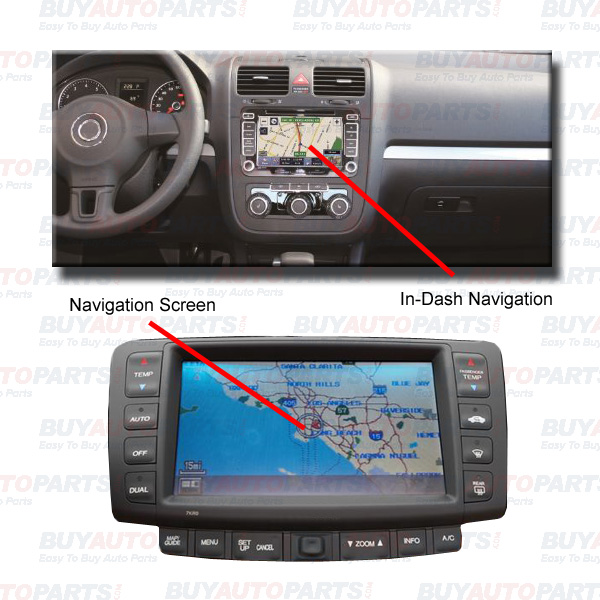 An in-dash navigation system is a unit that comes in stock or can be added to a vehicle in order to help with the navigation. The navigation system consists of a head unit that can be programmed with the latest maps and best routes for navigating around a specific area or city. Navigation units use a GPS signal that is bounced off a satellite to locate the vehicle anywhere on the globe. The signal is detected by a small antenna that is mounted externally on the vehicle. Navigation systems come in many shapes and sizes from windshield mounted stick-on units to complete in-dash units that incorporate the AC systems and stereo display, as well.
Your basic navigation system will be able to detect the current location of the vehicle and speed down to the MPH (miles per hour). This tracking gives the unit the ability to estimate time of arrival at a location. Some units have current speed limits and even live traffic conditions so that the quickest route can be calculated for drivers to avoid accidents and traffic jams. The navigation systems can also be programmed with a number of preset destinations such as home and friend's houses. This makes it extremely easy to find your way back from unfamiliar areas to your home. Newer navigation units can be linked to a smart phone so that the phone can know where the car is in case you were to lose your way in a large parking area.
Get OEM replacement and aftermarket Navigation Systems at Buy Auto Parts!
Check out Buy Auto Parts' extensive range of navigation systems that carry an industry-leading warranty at unbeatable prices! To place an order, just select the right year, make and model of your vehicle. You can get your navigation systems delivered from the warehouse closest to your location at the earliest. Buy Auto Parts sells thoroughly-tested OEM replacement and aftermarket parts for every car make and model. We offer free shipping for orders over $99 in the continental United States. You can convey your difficulties to us through our toll-free number, or you can leave us an email at [email protected]. We have got automotive professionals to answer to your queries regarding any of our parts.
If the info you need is not covered in this section feel free to send us a message in our support section.
"How To" Home | BuyAutoParts Home