Take an Additional $10 Off AC Kits. Use Coupon Code ACKIT10

The suspension repair "How To" section of our site is here to help when you need that little bit of extra knowledge to get your project up and running. From the list below select the video or article that is related to info about the product line desired.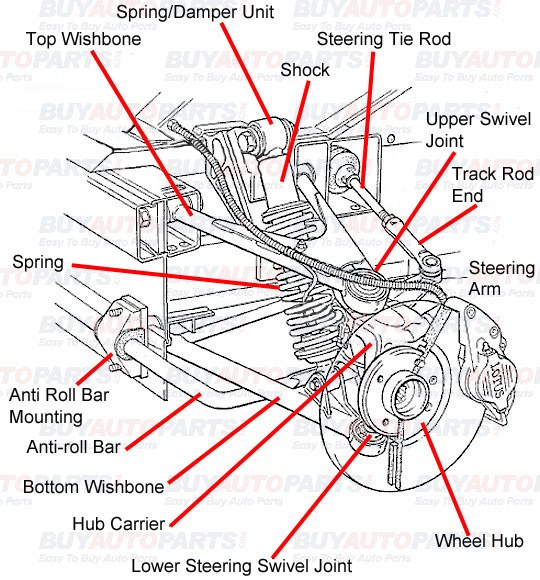 The term "suspension" refers to a system of springs, shock absorbers and linkages that work together to keep the vehicle in contact with the road while maintaining traction. The suspension also protects the vehicle itself and any cargo or luggage from damage and wear. The design of the front and rear suspension of a car may be different depending on the layout of the automobile's drive line and purpose. Common kinds of suspension systems include: dependent, independent and double wishbone suspension systems.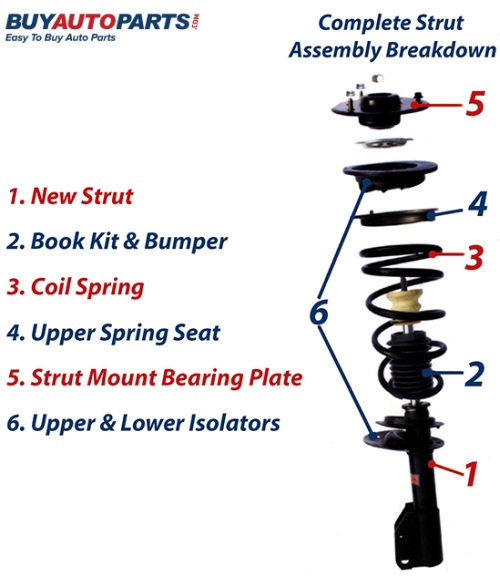 A strut assembly is a structural part of your vehicle's suspension system. The spring in a strut is what keeps your car driving smoothly while you drive over all sorts of road conditions. The strut assembly attaches directly to your car chassis and removes the need for an upper control arm. It is also possible to easily adjust ride height with some strut assemblies. Numerous parts that combine to make a strut assembly include a strut, boot-kit & bumper, coil spring, upper spring seat, strut mounting bearing plate and upper and lower isolators. It is necessary to repair suspension components that are faulty to ensure safe riding.
Get Genuine Automotive Parts at Unbeatable Prices here!
Buy Auto Parts stocks a wide range of OEM replacement and aftermarket parts for every make and model. To find the part for your car, simply tell us your car's year, make and model. Your order will be shipped from the warehouse closest to your location. We offer free shipping for purchases over $99 in the continental United States. Our products have been throughly-tested to meet or exceed industry standards. You can reach us on our support line at or leave us an email at [email protected], if you need help in choosing your part. Please feel free to leave us an online review. We value your feedback!
If the info you need is not covered in this section feel free to send us a message in our support section.
"How To" Home | BuyAutoParts Home