Take an Additional $10 Off AC Kits. Use Coupon Code ACKIT10

Return Processing Times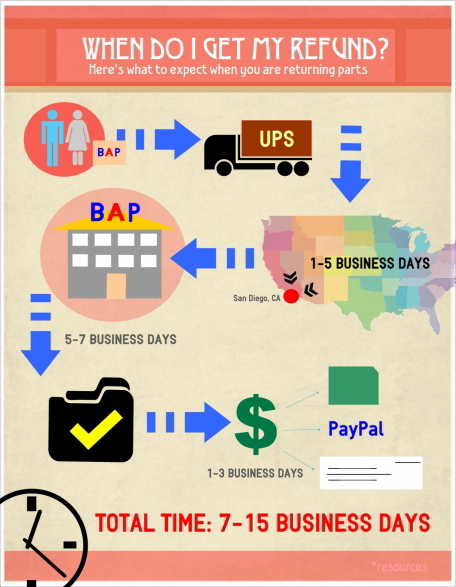 Returning a Part
Depending on your location, it can take anywhere between 1 to 5 business days to arrive at our headquarters in San Diego.
Arrival at Our Warehouse
Your returned part arrives on a large palette along with other returns each day. Now we need to check your part into our system. Depending on how busy we are, typically we quote that the part will be checked in within 5 to 7 business days. We receive hundreds of parts each day, and it takes time to physically open up each box, inspect the part that has arrived, and then put notes of receipt in each customer file. Our warehouse is working as fast as we can to make sure that each part is checked in promptly. We pull in order from date of arrival to ensure that there is a level of fairness between all of our customers. There is no way to expedite this part of the return process.
Checked-In Parts
Our warehouse team will notify our accounting department when your return part has been cleared for a refund.
Issuing a Refund
Refunds will be issued the within 24 hours after the part has been checked in. All refunds will be issued back onto the same form of payment that you had initially paid with. When we issue a refund, there is a 1 to 3 business day pending period before it will show back up on your card or account. We have no control over this pending period. Please contact your card provider if you have any questions about the pending period.
So, with this all taken into account, it can take anywhere from 7 to 15 business days for a refund to be back in your hands. Please understand that everything is just estimation, and we are working as fast as we can to get your refund back to you.
"How To" Home | BuyAutoParts Home