Home
Call to talk to one of our Parts Specialists
Spooky Savings Sale! Save $20 Off Any Suspension Purchase Of $100 Or More Using Code: SHOCK20

International Orders
International Customers, please review our international shipping policies for placing orders and to know more about Shipping, Payment, and Warranties.
BUY AUTO PARTS IN THE NEWS
Multi Channel Merchant: How BuyAutoParts.com Negotiates with Carriers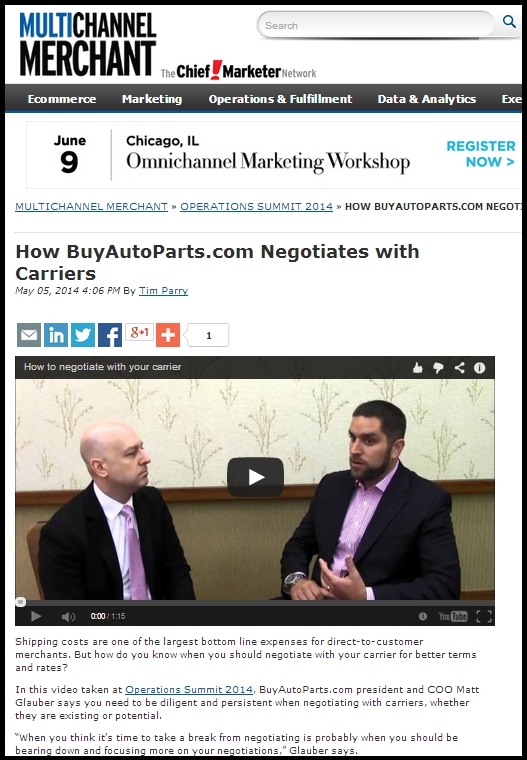 May 8, 2014 - San Diego, CA - BuyAutoParts.com president and COO Matt Glauber was recently featured on multichannelmerchant.com to explain why negotiation is so key to dealing with shipping carriers. In the video, Glauber explains how you need to be diligent and persistent when negotiating with carriers. The video was shot at Operations Summit 2014.
We Make It Easy To Buy Auto Parts
This is more than just a slogan for us. The main reason we find Matt Glauber's words to be of such importance is because these negotiations with carriers are what lead us to be able to provide you, our customer, with free shipping on all orders over $50. We wanted to give you a behind-the-scenes glimpse as to what it takes to be able to provide a service of this kind to our customers. We take pride in our ability to deliver our free shipping on all orders over $50 promise to all our customers in the continental United States and this video is proof of that. Watch the interview video yourself: