Get the parts you need today. Pay later with

. Learn more

BUY AUTO PARTS IN THE NEWS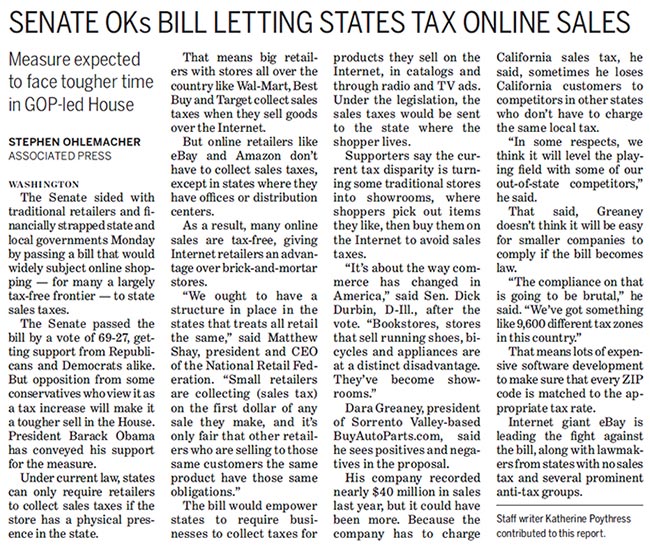 San Diego Union Tribune: Buy Auto Parts' President on Internet Sales Tax
May 6, 2013 - San Diego , CA - Business reporter, Katherine Poythress of the San Diego Union Tribune interviewed Buy Auto Parts' President, Dara Greaney to discuss what effects The Marketplace Fairness Act will have on online retailers.
What is The Marketplace Fairness Act?
When you currently buy a product online you do not have to worry about sales tax unless the company you are purchasing from has a physical presence in your state, such as a an actual brick and motor store or a warehouse. This is why a majority of online sales are tax-free.
However, The Senate passed the Marketplace Fairness Act late last night. This bill will affect everyone in the country whom sells or purchases any type of product on the internet. Tax-free online purchases will be no more. Every online transaction will be taxed, whether the company has a store in the same state or not.
Supporters of the Maketplace Fairness Act say this bill levels the playing field and allows stores to have a fighting chance against online retailers selling with an unfair advantage. Opponents of the bill say that the processing of the taxes will be a logistics nightmare, and although it may help out local mom and pop brick and motor stores it will crush the mom and pop online stores. They don't have the resources to comply with all of the different tax codes.
The bill still has to make it through The House, and this will likely be a tough uphill battle. So, all of this debate over the Act is likely going to be mute.