Limited Time - Free Shipping on All Orders Over One Dollar!

BMW 325e Wheel Hub Assembly FOR SALE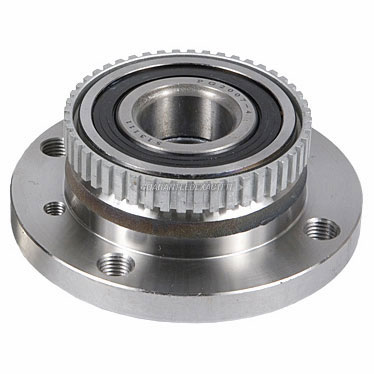 The BMW 325e Wheel Hub Assembly is a part of your vehicle's suspension system and is located between the brake discs/drums and the wheel axle. The assembly includes the wheel bearings, the wheel hub and in most modern vehicles, also includes the ABS and wheel speed sensors. The bearings ensure that the wheels rotate freely with no friction. The wheel is bolted to the wheel hub through studs that protrude from it. The brake rotors are also bolted to the hub; this assembly ensures that the wheels stay attached to your vehicle while spinning freely on their bearings. The anti-locking brake system sensor (ABS) monitors the speed of the wheels, transmitting the data to the ABS module which regulates the functioning of the ABS to prevent the brakes from locking during an emergency. If you hear a whining or squealing sound from your wheels when you round a turn or if you find that your vehicle is listing to one side while driving, chances are that your wheel hub assembly is at fault. A damaged wheel hub assembly should be replaced at the earliest.
If you have issues with your BMW 325e Wheel Hub Assembly, you must replace it as soon as possible. Buy Auto Parts stocks a wide range of OEM replacements and premium aftermarket parts for every car make and model. All our car parts are tested thoroughly and come with a warranty and free shipping on all orders above US $1!
To locate the parts you need, just select the right year, make and model of your car from our online catalog. If you have difficulties in finding the BMW 325e Wheel Hub Assembly, call us and we will find it for you. As we have warehouses all across the country, you can be assured of receiving the ordered car parts from the warehouse closest to your location, on time.
Making sure our customers get the right part at the best price is our top priority. For any assistance, you can call our toll-free support line at 1-888-907-7225 or email us at [email protected]. Our US-based sales and support teams are here to answer all your questions about our car parts.