Differential Bearing Kits
Differential Bearing Kits
Differential Bearing Kits include all the components needed to install or replace a differential in your automobile. The components of the differential bearing kit help in keeping the operation of the gears and the other parts of the differential within their constraints. These kits include the front and rear pinion bearings, carrier bearings, bearing cups, seals, nuts, sieves and gaskets.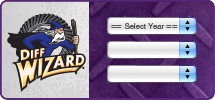 Differential Bearing Kits for your vehicle are easily found using the Diff Wizard.

Click to the left to get started!
The differential distributes the engine's torque between the wheels of the vehicle to make each wheel spin at a different speed. The differential provides the final gear reduction for the transmission, before it is transferred to the wheels. In front- and rear-wheel drive vehicles, the differential is located between the front and rear wheels, respectively. All-wheel drive vehicles also include a central differential that is mounted between the two sets of wheels. Part-time 4WD vehicles do not have a central differential between the front and rear wheels. The two sets of wheels are locked together to allow the four wheels to spin at the same average speed.
If you are looking to replace or install a differential in your vehicle, you have come to the right place. At Buy Auto Parts we stock a wide variety of differential bearing kits for every car make and model.
We have genuine OEM replacements and premium aftermarket parts. All our car parts are thoroughly tested and come with a warranty. To view the parts that fit your vehicle, select the right year, make and model of your car on our online catalog. At Buy Auto Parts you will find high-quality differential bearing kits at unbeatable prices, and free shipping for orders over $99. If you have any questions about our car parts, call our toll-free support line 1-888-907-7225 or email us at [email protected].