Differential Cases and Spiders
Differential Cases and Spiders
The Differential Cases and Spiders are a vital part of your vehicle's transmission system. The differential is the final gear reduction in the transmission, after which the engine power is distributed to the wheels. The differential comes into play when you turn your vehicle, to ensure that each wheel rotates at a different speed. The wheels on the outside of the turning curve have to rotate faster than those on the inside of the curve. The differential accomplishes this by means of the differential case and the planetary gear assembly.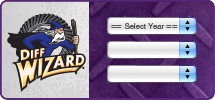 Differential Cases and Spiders for your vehicle are easily found using the Diff Wizard.

Click to the left to get started!
The planetary gear assembly consists of the spider gears (the planet gears), which are mounted on the differential case shaft, and the side gears (the sun gears), which are attached to the left and right half of the axle. The differential case spins in the same speed as that of the ring gear (crown wheel). When the car is driving straight, the spider gears do not spin, thus moving in a speed relative to that of the crown wheel. An equal amount of power is distributed to both the wheels. When the wheels turn, the spider gears begin to rotate to allow the wheels to rotate at different speeds. This causes the wheel inside the curve to rotate at a slower rate than the one outside the curve, ensuring that the car turns smoothly without any slip in the wheels.
The gears in the transmission system should be kept lubricated and the fluid level should be checked periodically to ensure the smooth working of the differential case. If you hear a loud, clunking noise when you accelerate or switch between drive and reverse, it is a possible indication of a defective differential case. Other symptoms include a squealing noise while turning or a drag while driving. A faulty differential case should not go unchecked and should be repaired or replaced at the earliest to prevent your transmission system from sustaining severe damage. At Buy Auto Parts we stock a wide variety of differential cases and spiders for every car make and model.
We have genuine OEM replacements and premium aftermarket parts. All our car parts are thoroughly tested and come with a warranty. To view the parts that fit your vehicle, select the right year, make and model of your car on our online catalog. At Buy Auto Parts you will find high-quality differential cases and spiders at unbeatable prices, and free shipping. If you have any questions about our car parts, call our toll-free support line 1-888-907-7225 or email us at [email protected].