Differential Tools
BuyAutoParts stocks a wide range of Differential Tools for your differential set-up and maintenance. These include:
Bearing Pullers: These include external, internal and blind bearing pullers to safely pull and detach the bearings in your differential.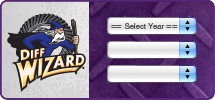 Differential Tools for your vehicle are easily found using the Diff Wizard.

Click to the left to get started!
Housing Spreaders: These allow you to set the carrier bearing pre-load during a differential installation. These allow the differential housing to be stretched without any risk of damage.
Spanner & Side Adjusters: These let you set the backlash and bearing preload on your differential without damaging the adjusters or threads in the housing.
Bearing Race Drivers: These help in installing a press-in bearing race into a differential axle tube housing or a wheel hub. They also aid in installing parts such as freeze plugs, cam plugs and flat surfaced seals for timing covers.
Set-Up Bearings: These help in installing the differential shims under the bearings. They have a slip fit instead of an interference fit which makes it easier to be installed and removed.
Shim Drivers: These allow you to drive the shims into your differential housing without cracking them. Based on the shims, they are available in various shapes and sizes.
If you are looking to purchase specialty differential tools, you have come to the right place.
We have genuine OEM replacements and premium aftermarket parts. All our car parts are thoroughly tested and come with a warranty. At Buy Auto Parts you will find high-quality specialty differential tools at unbeatable prices, and free shipping. If you have any questions about our car parts, call our toll-free support line or email us at [email protected].