Fast Shipping
Free shipping over $99
We ship from multiple warehouses across the country, so you get your part as soon as possible.
Industry Leading Warranty
We've got your back
Free, one year (or more), unlimited mileage warranty. Covers everything; parts and shipping costs
Guaranteed Exact Fit
Easy Installation
We have reviewed over 1,000,000 fitments to guarantee an exact fit for your vehicle.
Easy Returns
We're Here To Help
Return for any reason within 60 days for a full refund
30 Years of Service
We Love What We Do
Experts in auto parts since 1989-We are rated 4.9/5 by over 400,000 of our customers.

Lexus gx460 A/C Compressor FOR SALE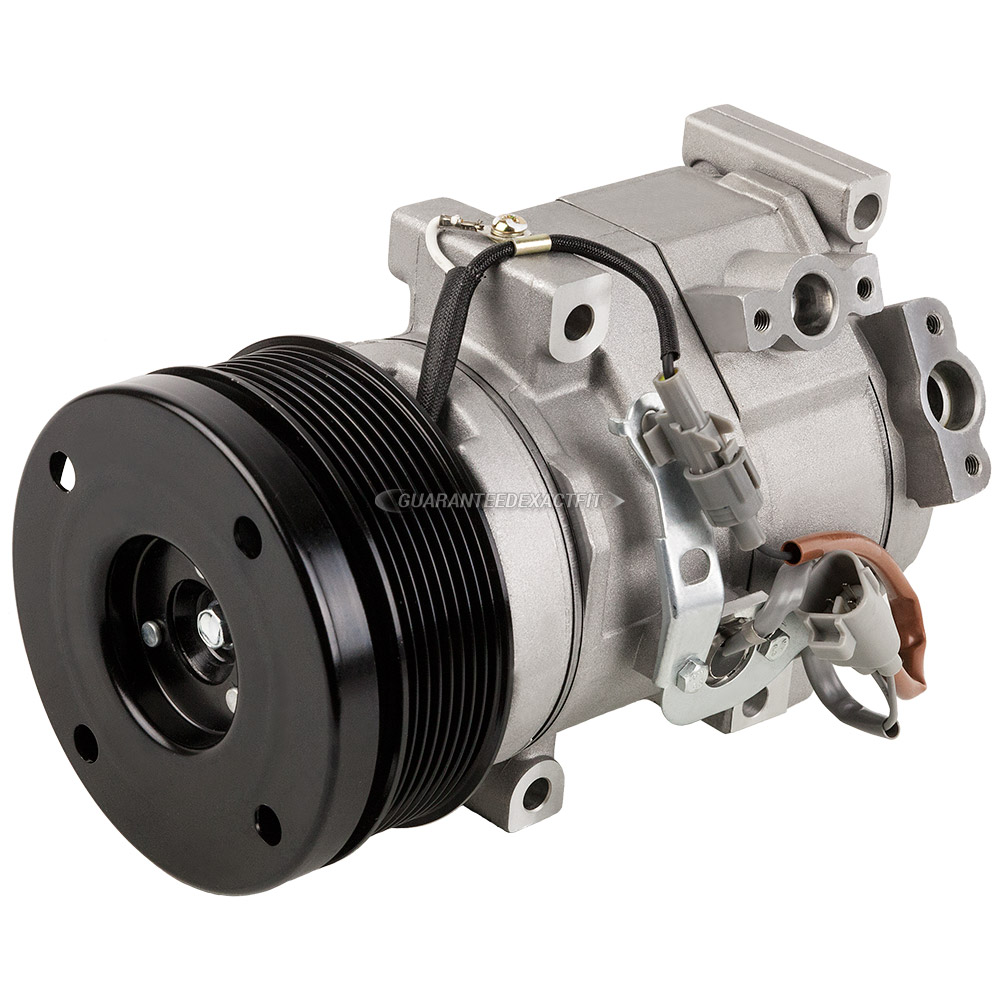 Lexus gx460 A/C Compressor

by Year

+
The Lexus GX460 AC Compressor, which is a part of your vehicle's air conditioning system, is driven by the crankshaft of the engine. It induces a pressure in the refrigerant before passing it on to the AC Condenser. The AC compressor pumps the refrigerant at pressures ranging from 130 to 250 psi. The rotor of the AC compressor is connected to the crankshaft through a belt and pulley, ensuring that the compressor runs only when the engine is running. A mechanical clutch, that is fitted on the pulley, engages and disengages the input shaft and the pulley when the AC is switched on and off, respectively. The high-pressure gaseous refrigerant is turned back into a liquid as it passes through the condenser. The liquid refrigerant now passes through the dryer and the evaporator, after which it is turned back into a gaseous form, drawing the heat in the passenger cabin towards itself. If your AC compressor is faulty, it should be replaced at once to prevent any further damage to car's AC system.
If you have issues with your Lexus GX460 AC Compressor, you must replace it as soon as possible. Buy Auto Parts sells a wide range of parts for every car make and model at unbeatable prices. We have genuine OEM replacements and premium aftermarket parts. All our AC parts are tested thoroughly and come with a warranty. We provide free shipping on all orders above US $99.
To view the parts that fit your vehicle, you just need to select the right year, make and model of your car on our online catalog. If you require assistance in finding the Lexus GX460 AC Compressor, feel free to contact our support team. As we have warehouses all across the country, you can be assured of receiving your AC parts from the warehouse closest to your location, on time.
Customer satisfaction is our number one goal, and our customers show their appreciation with outstanding online reviews. To know more about our services and AC parts, call our toll-free support line at 1-877-360-7044 or mail us at [email protected]. Our US-based sales and support teams are here to take care of all your AC part needs.