Air conditioners have come a long way since the window mounted "swamp coolers" that were a popular and cheaper alternative to in-car air conditioners for early automobile owners. Instead of coils, electricity and coolant, these bad boys used good old mother nature to cool occupants in a process called latent cooling of vaporization—a term that sounds a lot more complicated than these machines actually were. Swamp coolers, also known as car coolers, evaporated water collected outdoors to chill the car's interior. Water inside the cooler evaporated, and in the process, transferred heat from the surrounding air to the evaporating water, resulting in cool, moisture-laden air inside. The lower the humidity, the better the Swamp cooler worked. Which meant the coolers were especially popular in areas such as California, Arizona, Texas, New Mexico, and Nevada. Swamp coolers were an after sale product that typically looked like the canister of a vacuum cleaner. Though the styles were different, these coolers were extremely popular and were a must have accessory for everything from Model As to high end sports cars.
To operate a Swamp cooler was fairly simple-- as long as the car was moving forward and the water reservoir was filled, the cooler would provide A/C for anywhere from 100 to 150 miles. In other words, to fix your A/C in 1945, all you needed was a gallon of water in the back seat and a lead foot!
While technology has allowed us to put the Swamp Cooler in the attic in favor of advanced systems that allow us complete control of our car's interior climate—it's also made it a much more involved process than simply topping off a tank with water!
With spring and summer around the corner, many of us are looking to shore up our A/Cs in preparation of warmer days. If your system is on the fritz, we've got the complete A/C guide that will help you keep your car from feeling like a sauna this summer.
The Moving Parts
While the concept of air conditioning has worked more or less the same way since its inception, there are quite a few moving parts involved in your average A/C. While most think of A/C as a mythical machine of unimagined complexity, it helps to realize that your A/C is pretty much a refrigerator with a unique design. While replacing an A/C compressor isn't what most people would call fun, doing it yourself will give you an intimate knowledge of your car's A/C system, and can help you diagnose the root of your problem without having to pony up your hard earned cash at the local garage!
Your A/C system likely involves a variation of the following parts, and luckily the names pretty much sum up their various functions:
Compressor:  This is likely to be the hardest working part in your system and it does exactly what you think. Compressors take refrigerant, in gaseous form, pressurize it and push it on to the condenser.
Condenser:  A condenser is little more than a small radiator which uses air to cool the refrigerant back to liquid temperatures.
Receiver-Drier: Yep, we've gotten pretty lazy in the naming department by the time we get here. The Receiver-Drier uses desiccants, similar to the white pouches found in shoeboxes and beef jerky—often labeled "DO NOT EAT"—to attract moisture. This part of your A/C quite literally receives and dries the air before pushing it along the system.
Thermal Expansion Valve (TXV): The TXV is the first part of the low-pressure side of your A/C, and is cool to the touch. Some systems have an orifice tube in place of a TXV, but the principle is still the same—both systems allow refrigerant, in gas form, to both flow at a constant rate and expand.
Evaporator: This is the only part of your A/C in the cabin, and is the last stop before the gas moves out of the evaporator and a fan blowing outside of the evaporator coil blows cool air into the car cabin.
Know Your A/C Compressor
Your A/C compressor is one of those crucial parts of your car that you use every single day, and never think about until it gives out.  On a hot day, nothing works better at keeping both tempers and interior temperatures at pleasant levels than a smoothly running A/C compressor.
Like your tires, windshield wipers, and other parts of your car—it's near impossible to know when yours will give out. That being said, most modern cars have fairly reliable A/C systems and major snafus are rare.
Signs of a Busted A/C Compressor
Besides no cold or only slightly cold air coming out, oil or Freon leaks, noise, and erratic or no operation are indications that a compressor may need to be replaced. Chemical dyes and "sniffer" devices are the only way to detect a chemical leak—even when no liquid is readily visible.
Clutch, Bearing, Motor & Seals
Given the reliability of most compressors, it might not even be faulty or older parts inside yours that is causing it to malfunction. The clutch bearing and the electrical connector to your A/C Compressor are vital to a functioning compressor. Without these parts your compressor can't power your air conditioner.
While these are ancillary parts, it's recommended to replace the entire compressor if your clutch or bearing has failed. Sometimes it's cheaper to replace an entire compressor than an individual clutch or bearing.
Interior seals inside the A/C compressor can also go bad, causing it to leak refrigerant and A/C oil. If the seals won't hold, you will have to get a new compressor, since individual seals can't be replaced.
Choosing an A/C Compressor
Your make and model will determine what type of compressor you're in need of, before you buy a new compressor, use the Buy Auto Parts parts search to figure out the right one for your ride.
Another important note on choosing a compressor is whether to opt for a new one as opposed to one that's been remanufactured. While it's possible to use a refurbished compressor instead of buying a new one, it's best to go with a brand new version that you can install and forget about! Remanufactured or not, auto parts only have a certain amount of life in them, and while A/C compressors aren't hard to replace, it's not something you'll want to do regularly. Save yourself some time and grab a new A/C compressor, the time saved is definitely worth more than saving a few bucks on a used compressor.
How it's Done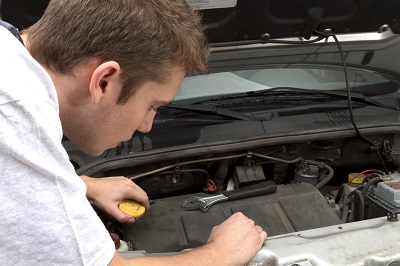 1.  Remove the A/C belt from the compressor pulley.
2.  Evacuate the A/C system with a refrigerant recover machine
A refrigerant recovery machine is used to drain the device, to ensure that refrigerant is not accidentally released during servicing and repairs. Once removed, the refrigerant can be filtered to remove impurities, and pumped back into the device after the cleaning and servicing is over.
3.  Disconnect your Negative Battery Cable
Because no one wants to be zapped with electricity, especially by their own ride!
4.  Remove the refrigerant lines to the A/C compressor.
Be sure to double check for anything that shouldn't be in your refrigerant lines. Metal and excessive dirt or grime are usually the culprit. You'll need to clean any and all contamination to ensure your system is running fluidly.
5.  Disconnect all electrical connectors
Re: Electricity Hurts.
6.  Remove the A/C connections, and compressor mounting bolts.
Save these! You'll likely need the mounting bolts and connectors to mount your new compressor.
7.  Install the new compressor with all A/C compressor mounting bolts and tighten.
8.  Reconnect any electrical connectors.
9.  Replace O-Rings on refrigerant lines.
These help insulate your system so you might as well replace them while you're down there.
10.  Reconnect all battery cables
11.  Evacuate air with an A/C servicing machine
Some models will even identify the refrigerant used in the A/C system prior to recovery. This is also the machine used to re-charge your system.
12.  Check for leaks
13.  Re-charge the system
See #11
14.  Refill Refrigerant
If you don't have one of the new-fangled, refrigerant identifying A/C servicing machines—the sticker under the hood of your car will let you know the best variety of refrigerant for your car.
15.  Check Temp
Insert a thermometer into the center A/C register, if it reads between 30 and 36 degrees, you're golden. You should also be aware that your radiator fan and compressor clutch will cycle on and off in relation to the outdoor air temperature, so don't fret if it seems to be running when the A/C is off.
And you're done. While a bit more time intensive than some fixes, changing your A/C compressor isn't very hard—if you're a more visual learner, browse our videos to watch one of our technicians perform the process step by step.
Written by: Dara Greaney
Photo Credit:
By Doug Coldwell (Own work) [CC BY-SA 3.0 (http://creativecommons.org/licenses/by-sa/3.0) or GFDL (http://www.gnu.org/copyleft/fdl.html)], via Wikimedia Commons
By Doug Coldwell (Own work) [CC BY-SA 3.0 (http://creativecommons.org/licenses/by-sa/3.0) or GFDL (http://www.gnu.org/copyleft/fdl.html)], via Wikimedia Commons