Get the parts you need today. Pay later with

. Learn more

Car Trouble? — Now What?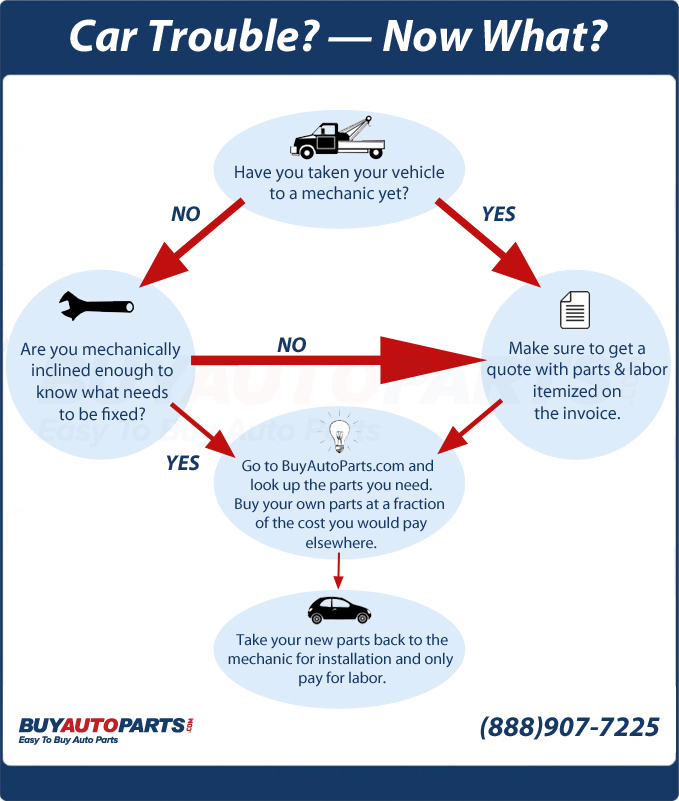 Having an issue with your car can be a worrisome and frustrating experience. Most of us drive cars every single day, but don't have the technical knowledge to make repairs when something goes wrong. Before BuyAutoParts.com was around, you had two choices when you needed to have repairs done to your car-- you could go to the dealership or you could go to the mechanic. But now, because you can find great deals on parts at BuyAutoParts.com, you can be more confident when it comes to getting the parts you need to get your car back on the road.
Next time you have a problem with your car, don't panic! First ask yourself if this problem is something that you have the knowledge to fix on my own. For the average person the types of problems that would fall under this category would be filling your tires, replacing a headlight or taillight, and maybe even changing your oil. If you have more extensive car knowledge there is probably a wide array of car problems you could handle depending on the depth of your automotive expertise.
If you decide that the best course of action is to go to the mechanic to get your car fixed, it is important that you get a quote with parts and labor itemized on the invoice. This is crucial! If you do not get a list of the parts that you need, then you will not be able to go home and do the proper research. It is also important to get an estimate on labor upfront because if you tell your mechanic that you are going to buy the parts from BuyAutoParts.com they might not be happy that you are not purchasing it through them. Mechanics make money by overcharging you for parts. If you don't get a quote on labor, they might try to raise the cost on you when you actually go to get your car fixed.
Use the invoice to find the correct parts at BuyAutoParts.com. If you are having trouble finding the parts that you need, feel free to give us a call at 1-888-907-7225 and ask us for help. We have a USA based sales and support team that is ready and waiting to answer any questions that you may have. We will do our best to save you time and money, by getting your replacement parts to your doorstep as quickly as you need them. We are car people and we know what it is like to be stuck without a vehicle. BuyAutoParts.com is here to make it easy for you to buy auto parts so that you can get back on the road.
"How To" Home | BuyAutoParts Home