Get the parts you need today. Pay later with

. Learn more

Common Supercharger Failures Chart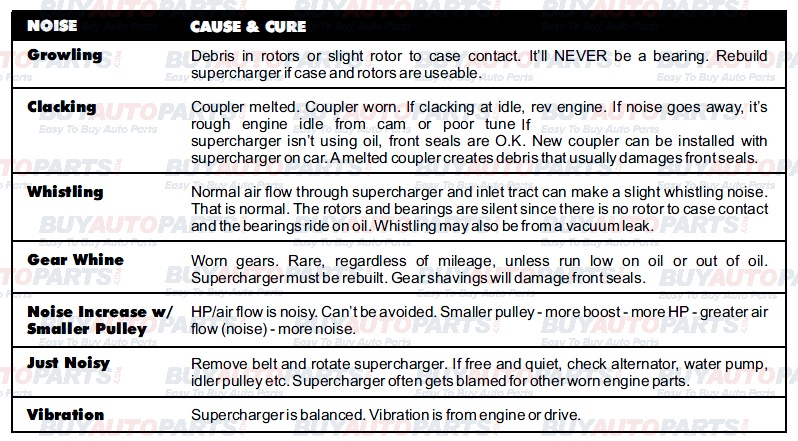 Superchargers are extremely efficient ways to make good and true horsepower on a vehicle. While a supercharger does create some parasitic loss, the horsepower it creates is worth the draw. A supercharger will last as long as the car if they are properly maintained but they do fail from time to time. Failure of a supercharger unit can be caused a number of ways and each of them has their early warning signs and specific way to be repaired.
There are 6 major types of failure that can strike a supercharger unit Growling, Clacking, Whistling, Gear Whine, Noise Increase from a smaller pulley, Noise and Vibration.
Growling - Occurs when debris in the supercharger causes the rotor to hit the housing.
Clacking - If this condition is present at idle but goes away under load then there is an idle issue. If the issue continues after engine rev then the coupler may be damaged.
Whistling - Supercharger units create a whistling sound from the air moving through the unit though if the sound is very loud there may be a vacuum leak.
Gear Whine - Gear whine is usually due to age but most commonly happens when the unit is run without oil.
Noise Increase - A smaller pulley will create more noise due to the increased movement of the air through the unit.
Just Noisy - Many times the supercharger is blamed for noise and needs to be checked by hand to determine if it is indeed the source of the noise.
Vibration - This is never due to the supercharger unit since the unit is balanced. The vibration is the engine.
Of course with any part it is a good idea to have the vehicle inspected by a licensed mechanic before making a decision about repairing or replacing a supercharger unit.
"How To" Home | BuyAutoParts Home