Get the parts you need today. Pay later with

. Learn more

Guide to Changing Engine Oil
The engine oil lubricates and cools down the engine components, thereby preventing them from premature wear. When the engine operates, the pistons and other components generate friction due to their movement, which increases at high engine speeds. The engine oil is necessary to prevent metal to metal contact between the engine components and prevent them from over heating. The following steps will help you determine whether it is necessary to change the engine oil and how to add it to your system.
Step 1: Park your car on a level surface and kill the engine. Wait for a while to let the engine oil flow down to the oil pan. Pull out the engine oil dipstick (If you don't know where is the engine oil dipstick, check your owners' manual).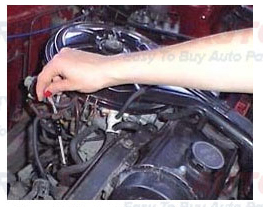 Step 2: Dry it with a clean rag or tissue. Then, set it back all the way down into its place.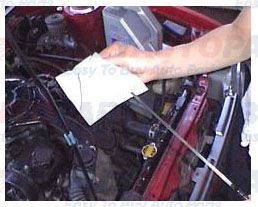 Step 3: Now, pull the dipstick out again and check the oil level. Normally, it should be at the "FULL" mark. For example, here you can see that it is at a lower level and hence, you need a refill.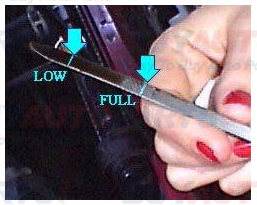 Be sure to also check the color of the oil:
a) If it is too black, it is time to change it.
b) If it is slightly-brown, it is okay.
c) If it is dark-brown, but still transparent, it is admissible but it's better to change it.
d) If it is white (coffee with milk color), it means the engine coolant has mixed with the engine oil due to some internal engine problems like a blown head gasket. In this case, get your car to the mechanic.
How to add the engine oil?
It's good practice to consistently use the same brand of engine oil that is already used in your car. Add the oil, a little at a time, checking the oil level with your dipstick in between intervals, to ensure that you don't over-fill your pan. After you have the right level of oil in your pan, re-insert the dipstick and close the filler cap.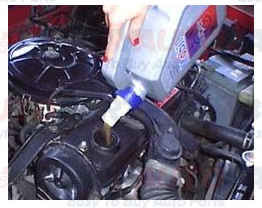 There are various kinds of engine oils such as synthetic and synthetic blend oils. Some special synthetic blend oils also help restore the engine performance. It is advisable to refer to the owner's manual to know the best viscosity range and choose the right oil for your car. Ensure that you follow the recommended intervals for changing the oil as suggested in your owner's manual. Switching between kinds of oils is often not recommended.
Get High-Quality Engine Oils at Buy Auto Parts!
If you are looking to buy engine oil, Buy Auto Parts is the right place. We will get you the right engine oil once you select your automobile's right year, make and model. Coming with an industry-leading warranty at unbeatable prices, our auto parts are meticulously tested to meet or exceed industry standards. We also offer free shipping for purchases over $99. Your order will reach you on time, as it will be shipped from one of our warehouses close to your location. If you have trouble in locating your part, our support team is at hand to help you: call us at or leave us an email at [email protected]. You can browse through our extensive line of throughly-tested OEM replacement and aftermarket parts for every make and model.
"How To" Home | BuyAutoParts Home