Get the parts you need today. Pay later with

. Learn more

How To Check and Fill Coolant
The coolant is a vital fluid that transfers the heat it collects from the engine components to the radiator. The engine parts, while operating, generate a lot of heat. This heat can be detrimental to the engine if it is not properly cooled. A coolant is added to accomplish the purpose of removing heat from the engine. An insufficient amount of coolant will have a substantial impact on the life and performance of the engine components. It is advisable to check the coolant level on a regular basis to prevent your engine from wearing down prematurely.
A common problem with a lower coolant level is a coolant leak. As the primary function of the coolant is to cool down the engine components, if there is an insufficient amount of coolant, it will not cool down the engine parts, resulting in engine overheating. This is an obvious symptom of a low coolant level. The following steps explain the procedure to check the coolant level and how to fill it, in case the level is low.
Checking the engine coolant level: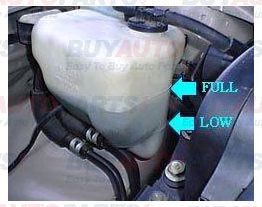 The coolant level should be between the "LOW" and "FULL" marks in the coolant expansion tank as shown in the picture above.
a) If it's below "LOW", you should top it up.
b) If there is no coolant in the expansion tank at all, you should add the coolant into the radiator also.
Warning: Never open the radiator or the expansion tank cap when engine is hot!
How to add coolant?
When engine temperature is reduced (few minutes after the engine has been turned off) , simply add a coolant into the expansion tank up to the "FULL" mark and into the radiator, if necessary.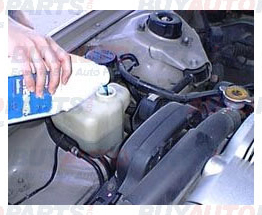 Purchase high-quality Auto Parts at Buy Auto Parts
If you are looking to buy a genuine auto part, Buy Auto Parts is the right place. We will get you the part once you select your automobile's right year, make and model. Coming with an industry-leading warranty at unbeatable prices, our parts are meticulously tested to meet or exceed industry standards. We also offer free shipping for purchases over $99. Your order will reach you on time, as it will be shipped from one of our warehouses close to your location. If you have trouble in locating your part, our support team is at hand to help you: call us at or leave us an email at [email protected]. You can browse through our extensive line of throughly-tested OEM replacement and aftermarket parts for every make and model.
"HowTo" Home | BuyAutoParts Home