Get the parts you need today. Pay later with

. Learn more

Mass Air Flow
Engine Snap Shot
There are various sensors in an automobile including the oxygen sensor, mass air flow sensor, knock sensor, vehicle speed sensor and air fuel ratio sensor. The engine of a car is monitored by many systems and information from these systems are fed into the main Engine Control Unit (ECU). This information is available to the mechanic as an "engine snapshot" which can tell the mechanic if the sensors are working correctly.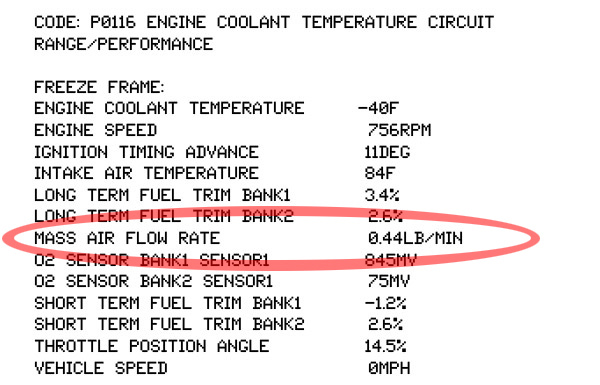 The image above shows the snapshot of the readings of the mass air flow sensor and other sensors. The mass air flow sensor (MAF) measures the mass of air flowing into the engine's intake manifold. The ECU records this reading and sends the appropriate amount of fuel to the engine to maintain the perfect air-fuel ratio. If there is an issue with the MAF (Mass Air Flow Sensor) the readings will be way out of specifications from what they are supposed to read. The mechanic can obtain the correct specifications from the dealership.
Some of the common indications of a defective MAF sensor include decreased engine efficiency and increased emissions. In addition, a faulty sensor will cause your Check Engine to glow in your vehicle's dashboard.
Purchase high-quality Mass Air Flow Sensors at Buy Auto Parts!
We will get you the mass air flow sensor once you select your automobile's right year, make and model. Coming with an industry-leading warranty at unbeatable prices, our mass air flow sensors are meticulously tested to meet or exceed industry standards. We also offer free shipping for purchases over $99. Your order will reach you on time, as it will be shipped from one of our warehouses close to your location. If you have trouble in locating your part, our support team is at hand to help you: call us at or leave us an email at [email protected]. You can browse through our extensive line of throughly-tested OEM replacement and aftermarket parts for every make and model.
"How To" Home | BuyAutoParts Home