Get the parts you need today. Pay later with

. Learn more

REPAIR
TIRE PRESSURE MONITOR SENSOR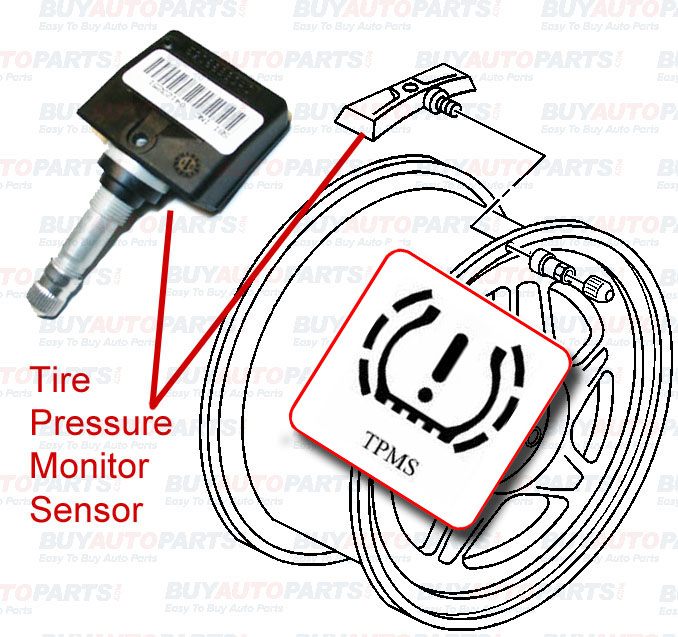 How To Repair Tire Pressure Monitor Sensor
The tire pressure sensor monitors the air pressure in a vehicle's tires. Since 2006, most cars and trucks have been fitted with a tire pressure monitor system or TPMS to check for issues with the tires. Just like an oxygen sensor or air fuel ratio sensor, the TPMS sensors are crucial to the proper operation of the car. While the tire pressure may seem like a trivial element but when the facts are examined, it become a lot more interesting. Tires that are 10% low on air will result in a 1% decrease in gas mileage which can put a dent in your finances.
The main issue with the TPMS systems is that the sensors in the wheels are all battery powered. This means over time, they all have a failure rate of 100%. When the TPMS systems fail they will turn on a light on the dash which will alert the driver and also cause the vehicle to fail a state inspection. The good thing about these parts is that they are cheap and can be replaced when a set of tires is installed on any vehicle. Each one of the sensors relays information to the central computer.
Place an order for Tire Pressure Monitoring System Sensors at Buy Auto Parts!
Buy Auto Parts carries a wide range of parts for every car make and model. We have genuine OEM replacements and premium aftermarket parts. All our car parts are completely tested and are offered with a warranty. You can look for the parts that fit your vehicle, by choosing the right year, make and model of your car on our online catalog. At Buy Auto Parts you will find top-quality tire pressure monitoring system sensors at unbeatable prices. You will also receive free shipping for orders more than $99. For any inquiries about our car parts, call our toll-free support line or email us at [email protected].
If the info you need is not covered in this section feel free to send us a message in our support section.
"How To" Home | BuyAutoParts Home