Get the parts you need today. Pay later with

. Learn more

Steps to Changeover the Saturn L-Series Compressor
You can replace your damaged/faulty Saturn L-Series AC Compressor with a new compressor by following this simple procedure:
1. Drain the refrigerant.
2. Remove the discharge hose assembly and discard it.
3. Remove the short suction tube from the compressor and suction hose.
4. Remove the compressor but retain the mounting bolts, belt and manifold bolts to be reused. (If the belt is worn or stretched, it has to be replaced).
5. Flush the system, and flush it again to be thorough. (You are installing a state of the art scroll compressor that cannot operate in a dirty system).
6. Change the drier to the new one provided.
7. Install the compressor provided in the kit. The compressor comes with 4oz of PAG 46 oil. You need to add 3oz more to the higher side of the system (not in the compressor) for a total of 7 ounces.
8. Install the new manifold with the new seals provided
9. Check the clearance to the exhaust, engine belt and frame.
10. Using the wire tie provided, tie the compressor clutch wire away from the belt after connecting it.
11. Evacuate and charge the compressor with R-134a to the manufacturer's original specifications. The scroll will have a lower suction pressure than what the original compressor had.
Saturn L Series Hose: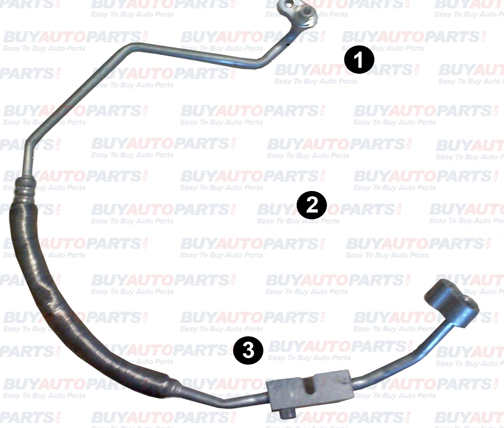 1) The male fitting bolts to the condenser after the original discharge hose has been removed and discarded.
2) There is a short suction tube that is removed from the compressor and suction hose, and discarded. The female end of the manifold provided is then bolted to the suction hose.
3) Manifold Block mounts to Compressor
Get High-Quality Saturn L Series AC Compressors at Buy Auto Parts!
If you are looking to buy a genuine Saturn L Series AC Compressor, Buy Auto Parts is the right place. We will get you the Saturn L Series AC compressor once you select your automobile's right year, make and model. Coming with an industry-leading warranty at unbeatable prices, our compressors are meticulously tested to meet or exceed industry standards. We also offer free shipping for purchases over $99. Your order will reach you on time, as it will be shipped from one of our warehouses close to your location. If you have trouble in locating your Saturn L Series AC Compressor, our support team is at hand to help you: call us at or leave us an email at [email protected]. You can browse through our extensive line of throughly-tested OEM replacement and aftermarket parts for every make and model.
"How To" Home | BuyAutoParts Home