What Does The Check Engine Light Mean?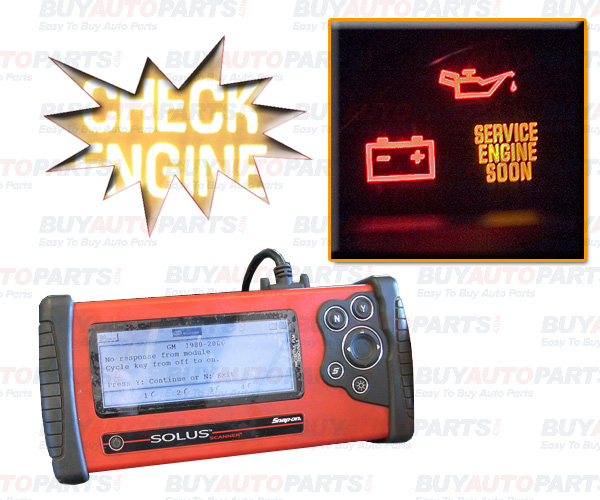 Modern vehicles are equipped with an ECM (Electronic Control Module) that is used to control all the functions of the engine and emissions as well. The "Check Engine" light is the way the ECM can tell the driver of the car that there is an issue with the engine. What does it really mean when the check engine light turns on in the gauge cluster? It may not be the end of the world but it is a good sign that something needs to be done. A clear understanding of the Check Engine light can help you to have some idea about the problems that need to be inspected.
The engine may not be receiving the appropriate fuel/air or there may be some problems with the pistons or there may be a leakage of fluids within the engine. There may be problems with other components associated with the engine that causes it to malfunction. Be it a problem with the engine or other components, if the engine is not performing up to its standard, the "Check Engine" light will light up.
Sometimes, the check engine light can indicate something as simple as a reminder for an oil change or the gas cap is loose. Other times, it can be the beginning or early warning signs of much more serious problems. Some of the common reasons for the glowing of the "Check Engine" light include a wet engine, defective oxygen sensors, vacuum leaks, worn-down spark plugs or a faulty catalytic converter.
A mechanic can attach a computer to the data port on newer vehicles which will allow him to pull the "codes" and also take a snapshot of the info from when the error occurred. The mechanic can also clear the codes that have been created by the error and see if the motor will run correctly now that the problem has passed. Some issues may work themselves out and others require immediate attention so it is always a great idea to have a mechanic inspect the car whenever the "check engine" light comes on.
Choose your vehicle's right year, make and model and find your matching parts!
Buy Auto Parts is the best place online to get replacement parts that come with a warranty at unbeatable prices. We stock a wide range of OEM replacement and aftermarket parts for every make and model. To find the right part for your car, simply tell us your car's year, make and model. Your orders will be shipped from the warehouse closest to your location. We offer free shipping for purchases over $99. Our products have been throughly tested to meet or exceed industry standards. You can reach us on our support line at or leave us an email at [email protected], if you need help in choosing the part. Please feel free to leave us an online review. We value your feedback!
"HowTo" Home | BuyAutoParts Home