Get the parts you need today. Pay later with

. Learn more

Borgwarner Turbo Systems at BuyAutoParts.com
BorgWarner is an industry leader in manufacturing powertrain solutions for almost every type of vehicle you can imagine. BorgWarner works under two separate sections: the Engine Group and the Drivetrain Group. The Engine Group focuses on manufacturing components of ignition timing and cooling systems, while the Drivetrain Group produces transmission and all-wheel drive components.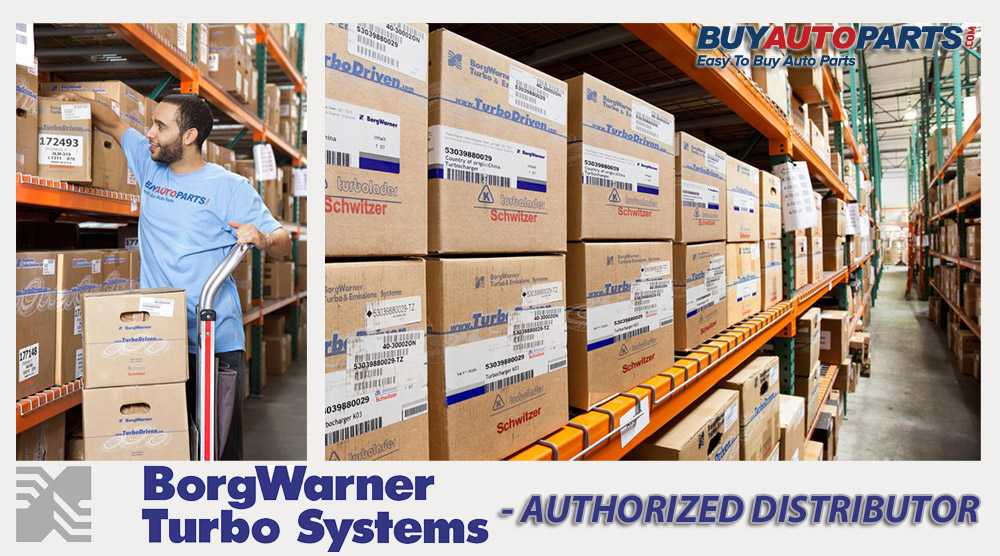 Though there is a large line of products produced by BorgWarner, it is well known in the automotive market for its superior-quality turbochargers that are manufactured for everything from standard passenger cars to pick-up trucks, to heavy duty construction machinery. The company's foray into the turbocharging industry began in 1998. With this move, the company began to forge its way to the top, as major automakers began incorporating BorgWarner turbochargers in their vehicles. If you drive a turbocharged Ford, Dodge, Audi, or Subaru, you will most likely find a BorgWarner turbo under your hood.
Today, BorgWarner is a powerhouse in the auto parts industry. Their turbochargers are manufactured using cutting-edge technologies and top-notch machinery. The company's business is widespread across the world with facilities in various countries including the United States, Portugal, China, India and Brazil. BorgWarner strives to develop products that decrease emissions and enhance the fuel economy of an automobile. It is one of the companies that pays special attention to preserving the environment.
Ranking at 352 in Fortune magazine's Fortune 500 list, BorgWarner netted 8.3 billion dollars in sales in the 2014 fiscal year.
Awards and Recognitions
In recognition of its thinking and commitment towards maintaining a green environment, BorgWarner's regulated two-stage (R2S??) turbocharging technology was awarded with two Automotive News PACE Awards in 2008.
BorgWarner again won the Automotive News PACE Award for its range of turbochargers manufactured using low-pressure exhaust gas recirculation technology in 2012. In the same year, the company released the first two-stage turbocharging system for commercial diesel engines.
In 2013, the brand received Automotive News PACE Award for its regulated three-stage (R3S) turbocharging system for diesel motors. In 2014, the company received accolades from major automakers like Ford, GM, Chrysler, Toyota and John Deere for its innovation, reliability and quality.
BorgWarner manufactures a premium product and our customers deserve to get it at a premium price. BorgWarner has dramatically changed the turbo market because in years past their turbos were only available to the largest distributors and dealerships across the globe. Now that BorgWarner has decided to sell its parts directly to consumers, you can find a great deal by visiting the BuyAutoParts.com online store. BuyAutoParts.com is an authorized dealer for BorgWarner parts and offers a full line of OEM replacement BorgWarner turbos at wholesale prices.
If you need to replace your turbocharger, there is no doubt that BuyAutoParts is the best place to buy a BorgWarner turbocharger. . We can get turbos for almost any type of vehicle (construction vehicles included). We have great offers, and our customer service is exceptional. BuyAutoParts.com is your one-stop shop for all your BorgWarner and other turbocharger needs.
Once you place your order for a BorgWarner turbo, you will receive it as soon as possible. We understand that your auto parts needs are immediate. So, we ship the parts to your location on time, as we have warehouses throughout the country. If you are uncertain about locating the turbo that is compatible with your vehicle, our support team is at hand to guide you. You can either reach us on our toll-free number or drop us an e-mail. You can find what our customers are saying about us in our review section. Please feel free to post your own review, as well.
For our buyer's guide on turbochargers, please refer to this section.
"How To" Home | BuyAutoParts Home