Get the parts you need today. Pay later with

. Learn more

Home> News > San Diego Business Journal: BuyAutoParts Acquired By Private Equity Firms and Managment Team
BUY AUTO PARTS IN THE NEWS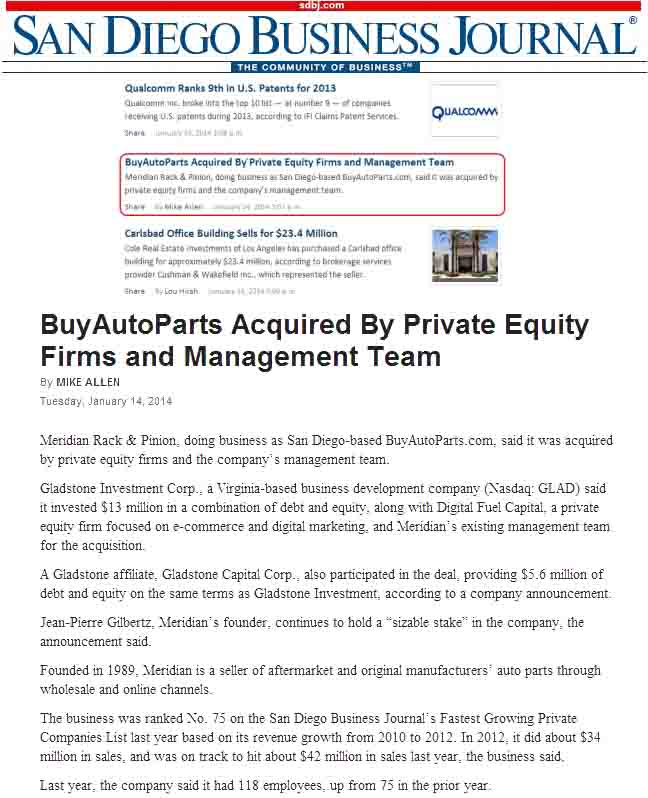 San Diego Business Journal: BuyAutoParts Acquired By Private Equity Firms and Management Team
January 17, 2014 - San Diego , CA - The new year has brought some big news; BuyAutoParts.com has been acquired by private equity firms and our company's management team. This is an exciting announcement for our company as the acquisition gives us the resources to provide our customers with a larger selection of parts and even greater customer service.

Related News Post: BuyAutoParts.com Inks New Distribution Agreements

As reported in the San Diego Business Journal, Gladstone Investment Corp. and its affiliate Gladstone Capital Corp. invested a total of $18.6 million dollars in the company to help take BuyAutoParts.com to the next level of growth. Gladstone said it invested in a combination of debt and equity, as well as Digital Fuel Capital, a private equity firm focused on e-commerce and digital marketing and BuyAutoPart.com's existing management team. Jean-Pierre Gilbertz (founder of the company) continues to hold a sizeable stake in the company.

BuyAutoParts.com is very excited about the opportunities this creates and feels this is a very positive move towards accomplishing our mission- to make it easy to buy auto parts. The San Diego Business Journal also mentioned in this report some of BuyAutoParts.com's recent distinctions which include being ranked #75 on the San Diego Business Journal's Fastest Growing Private Companies list. We feel the acquisition is an important step towards more continued success for many years to come.