Find Your Car's Fuel Pump Assembly, Fuel Pump Module Assembly and More Fuel Pump Parts at BuyAutoParts.com
Welcome to the BuyAutoParts.com fuel pump assembly page. You'll find a wide assortment of fuel pumps, fuel pump assembly parts and other related components right here. We carry the fuel pump module assembly, fuel pump and complete fuel pump assembly for your car.
The following information will help you make an informed buying decision when considering a new fuel pump for your car. Along with our Fuel Injector and Fuel Pump repair pages, you'll be able to make the best possible purchase for your automobile. Our Fuel Pump Buying Guide is another essential resource for customers like you deciding which fuel pump provides optimal performance at the best possible price.
A fuel pump assembly is one of many vital components necessary to keep your engine functioning properly. It's not hard to figure out that this vital mechanism pumps fuel from your tank to your engine, and that if it stops working so then does your car. A poorly working pump often shows up more subtly than that though, so you'll want to know what to look for to gauge whether something's wrong. If your pump assembly doesn't function properly, you'll feel the lag in your car's performance, particularly when you try to accelerate. It's of the utmost importance to catch a damaged fuel pump assembly early on, because if it's damaged or malfunctioning it can cause lasting damage to multiple engine systems unless you make the effort to replace it immediately. Not that it takes much effort if you buy a new part from BuyAutoParts.com.
Fuel Pump Assembly - General Overview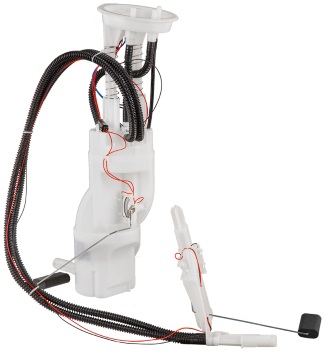 The primary job of the fuel pump is to deliver fuel from the gas tank to your car's engine. Most modern cars use a fuel pump located in the gas tank, while some older models have the fuel pump outside the tank. There are two different kinds of fuel pumps: mechanical and electric.
Mechanical fuel pump - as the name implies, this type of fuel pump uses mechanical motion to produce the necessary hydraulic thrust to get fuel from the gas tank to the engine. The primary catalyst for the mechanical fuel pump is a camshaft, which turns to create a lifting motion from an actuating lever. A suction force created by an inner diaphragm sends the fuel through the mechanical fuel pump's one way valve. Another one way valve forces the fuel toward the carburetor. Even though the mechanical fuel pump may produce a significant fuel flow, the carburetor takes only the amount of fuel necessary for normal engine operation.
Electrical fuel pump - very similar to the mechanical fuel pump is scope, the electrical fuel pump differs in one significant way: it has a solenoid switch as the main catalyst, as opposed to the camshaft. From there, the general action is very similar. The electrical fuel pump uses the same type of diaphragm, one way valves and control mechanisms to deliver fuel from the gas tank to the carburetor.
We Have Fuel Pump Assembly Parts for Sale, Including Complete Fuel Pump Assembly Kits
Eventually, your car's fuel pump will fail. Initial quality, driving style, maintenance and other factors will determine how long your fuel pump assembly will ultimately last. In order to keep your car driving like the day it rolled off the assembly line, you may have to replace the fuel pump assembly - either with the help of your local mechanic or with a money-saving DIY project, which is quickly becoming a much more popular method of car repair, especially for savvy and smart automobile owners.
Is your fuel pump near the end of the line? Are there certain signs & symptoms that definitively determine if the fuel pump is failing? While not everything is 100% fool-proof, a defined set of performance glitches and other warning signals can indicate fuel pump failure.
It's a simple fact: if your fuel pump starts working, your car will stop. Without a constant source of fuel delivery to the engine, you'll stall out. Many people associate a sputtering engine as something wrong with the spark plugs, distributor cap or spark plug wires. While that's a pretty good educated guess, a bad fuel pump provides many of the same symptoms.
Some of the typical signs of a failing fuel pump include:
Fluctuating temperature. If the fuel pump isn't working properly, the car's core temperature may go up and down. Whenever the fuel pump motor goes bad, the car temperature fluctuates drastically. Thus, a bad fuel pump assembly is often misdiagnosed as radiator problems, low coolant level and other related issues.
Bad gas mileage. The fuel pump's relief valve limits how much fuel is used by the fuel pump. If the relief valve isn't working, more fuel than necessary will enter the engine. This wasted fuel will start to show up in your mileage calculations. This is just one more reason why you should check your gas mileage at regular intervals.
Sputtering sound coming from engine.
Loss of power at high speeds.
A clicking sound from fuel pump.
No power upon acceleration.
Power drain when turning, going up hills, coming out of a red light, etc.
Sudden and unexplained power surges.
Car has trouble starting. While the starter is usually targeted as the culprit, improper fuel delivery is a major reason why cars can't start. A bad fuel pump in the winter time is even more troublesome, because the cold temperatures can compound an already weakened fuel delivery system.
There are many reasons why fuel pumps fail. General wear and tear are two big reasons, but the fuel pump's design, function and unique relation to other components (like the fuel tank) are also important. Your fuel tank can stop working because:
Bad driving conditions. If your fuel tank is subject to excessive moisture (in the form of rain, snow, sleet, etc.), the tank's structural integrity can impact the fuel pump. A rusted out fuel tank is a big factor why fuel pumps ultimately fail.
Chronic low fuel level. This might be the biggest reason why fuel pumps fail.
Bad electrical connections. For newer model cars that have an electrical fuel pump, a corroded connection, kinked wire or other issue can cause the fuel pump to deliver fuel from the tank to the engine very slowly, or not at all.
Dirty fuel. Bad fuel is hard to pinpoint, but many auto experts target the occasional bad batch of fuel as a reason that fuel pumps stop running. In order to prevent this, it is recommended that you always use the best quality fuel (think Sunoco, Shell, BP and other well-known fuel brands).
Keeping the Fuel Pump Running Properly
As far as fuel pump assembly maintenance is concerned, it's pretty simple to give your fuel pump the best chance for an extended life. Actually, it's about as easy as you can get, in relation to other maintenance protocols. It might be the best-kept secret if the complete annals of car maintenance. So what's the best way to take care of your fuel pump assembly? Keep your gas tank level properly maintained.
It sounds easy, but unfortunately many people choose to run their cars with the fuel warning light on. It is not recommended to operate your car this way. This style of driving provides unnecessary stress and strain on the fuel pump. This concept applies to other car systems which draw fluid from a reservoir. In your brake system, chronically low levels of brake fluid will negatively affect overall brake performance. That same principle applies to the gas tank. Think of your gas tank as a fluid reservoir, and the fuel pump as a straw. Whenever the level gets too low, the force necessary to draw fuel out of the tank greatly increases. If you drive too often in this manner, it's only a matter of time before the fuel pump wears out.
Other tips for getting the most out of your fuel pump:
Always keep at least a half tank of gas in your car. Forget the fuel warning light - your warning light should be anything less than half full.
If you don't use a tank of gas in a month, add a fuel cleaner to your gas tank.
For out of tank fuel pumps, inspect (and replace, if necessary) every 25,000 miles. Because of the location of these type of pumps, they're subject to certain stresses their inside the tank counterparts never experience.
Beware of pumping fuel at gas stations that are getting refilled from tanker trucks. Generally speaking, there is more dirt and foreign substances during these refueling periods.
Replacement and Repair Considerations
If you've diagnosed your fuel pump failure, you have the option of doing the work yourself. With affordably priced fuel pump assemblies and fuel pump assembly parts, BuyAutoParts.com can help you save money for the repairs. The repair work of the pump itself isn't difficult, but the trick is getting the fuel tank removed in order to access the fuel pump. Here is a good step by step guide for replacing your fuel pump assembly.
Assuming you have the time and expertise to safely remove the gas tank, doing a DIY fuel pump replacement is an excellent alternative to having someone else do the work for you. In about 2 hours, you can do it yourself. But first, you should ensure that your replacement fuel pump meets all the original factory performance specifications. Fuel pump assembly parts and all fuel pumps sold at BuyAutoParts.com are designed to perform equal to or better than the original component. Our Exact Fit Guarantee ensures that your new fuel pump will fit exactly like the old part.
Finding a complete fuel pump assembly is easier than you think. If you have your OEM part number, BuyAutoParts.com has a great selection to choose from. You can also find fuel pump assembly parts with your car's year, make and model. Our user-friendly ordering system connects customers like you with the fuel pump parts they need.
For help with your fuel pump order, questions about a fuel pump assembly module or other issues, please call BuyAutoParts.com at (888) 907-7225. Our parts specialists will be happy to assist!
Related Resources
How Much Does a Fuel Pump Cost?
This link provides the part and labor costs for replacing a fuel pump. You can refer to this link to formulate your plan to repair your bad fuel pump within your monthly budget.
How to Buy Fuel Pumps?
Check this link to get a thorough understanding of the fuel pump, its types and configurations. This information can help you choose the best fuel pump that is compatible with your vehicle.
Common Misdiagnosis Factors for Fuel Fump Assemblies
This link on fuel pump assemblies provides a detailed write-up on the causes, problems and symptoms of defective fuel pumps. If your fuel pump is acting up, refer to this article to know what might be causing it.
The 8 Factors to Consider in Fuel System Diagnostics
This page focuses on the defects in the associated parts of the fuel pump that can cause the pump to go bad. Refer to this page to pin down the actual defective part in your fuel system.
How to Test a Fuel Pump?
This page explains the various methods to test a fuel pump so that you can narrow down the problem with the pump.