Locking Hubs
Locking Hubs allow you to switch your 4WD vehicle to a 2WD vehicle when required. Since 4WD vehicles are generally ideal for off-road driving, they become power and fuel guzzlers in city and on-road driving conditions. Locking hubs, which are also known as free wheeling hubs, allow the front wheels and differential of a four-wheel drive vehicle to be disconnected from the drivetrain, turning the vehicle into a 2WD. The 4WD can be engaged again through a lever inside the vehicle.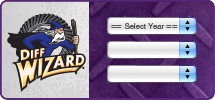 Locking Hubs for your vehicle are easily found using the Diff Wizard.

Click to the left to get started!
When you drive a 4WD vehicle on a flat surface, the small differences between the speeds of the front and rear wheels will cause a torque to be applied across the transmission. This condition, known as "transmission wind-up", is detrimental to your transmission and drive-train. Installing locking hubs on your vehicle will improve your vehicle's efficiency and handling while driving on surfaces that do not require a lot of traction. If you're looking to convert your 4WD into a part-time 2WD vehicle, you have come to the right place. At Buy Auto Parts we stock a wide variety of locking hubs for every car make and model.
We have genuine OEM replacements and premium aftermarket parts. All our car parts are thoroughly tested and come with a warranty. To view the parts that fit your vehicle, select the right year, make and model of your car on our online catalog. At Buy Auto Parts you will find high-quality locking hubs at unbeatable prices, and free shipping. If you have any questions about our car parts, call our toll-free support line 1-888-907-7225 or email us at [email protected].