Fast Shipping
Free shipping over $99
We ship from multiple warehouses across the country, so you get your part as soon as possible.
Industry Leading Warranty
We've got your back
Free, one year (or more), unlimited mileage warranty. Covers everything; parts and shipping costs
Guaranteed Exact Fit
Easy Installation
We have reviewed over 1,000,000 fitments to guarantee an exact fit for your vehicle.
Easy Returns
We're Here To Help
Return for any reason within 60 days for a full refund
30 Years of Service
We Love What We Do
Experts in auto parts since 1989-We are rated 4.9/5 by over 400,000 of our customers.

Plymouth acclaim A/C Compressor FOR SALE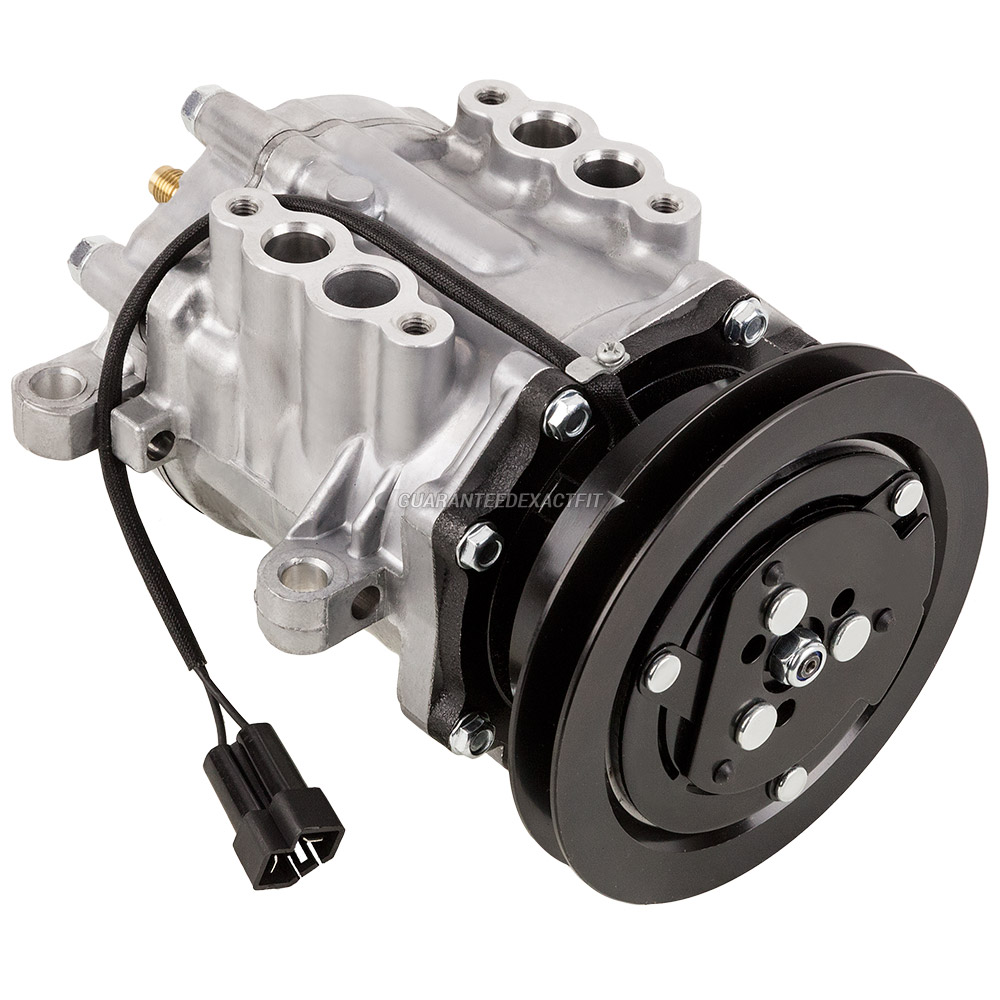 Plymouth acclaim A/C Compressor

by Year

+
The Plymouth Acclaim AC Compressor is the central part of your vehicle's air conditioning system. Its primary function is to keep the refrigerant flowing through the AC. The compressor pressurizes and delivers the refrigerant to the AC condenser. The compressor rotor is coupled to the crankshaft through a pulley. The turbine action of the rotor draws the refrigerant gas into the compressor, where it is compressed to a pressure of around 250 psi at a high temperature. The high-temperature, pressurized refrigerant is conveyed to the system's condenser, where it is cooled down into a high-pressure liquid refrigerant. The refrigerant is then passed through the dryer where any moisture present is removed. The expansion valve removes the pressure in the liquid before passing it to the evaporator. In the evaporator, the liquid refrigerant is turned back into a gaseous form, absorbing the heat in the passenger cabin of your vehicle. The coupling between the compressor rotor shaft and the pulley is regulated through a mechanical clutch that only engages when the AC is turned on. A faulty compressor should be replaced at the earliest to prevent your AC system from sustaining severe damage. Common signs of a defective compressor include a refrigerant leak and clutch failure.
If you are looking for a genuine Plymouth Acclaim AC Compressor, you have come to the right place. At Buy Auto Parts we stock a wide variety of AC Compressors for every car make and model. We have OEM replacements and premium aftermarket parts. Each of our AC parts has been tested to meet or exceed industry standards. All auto part orders over $99 will receive free shipping.
Ordering auto parts online has never been easier. To find the AC parts you need, just select the right year, make and model of your car on our online catalog. If you encounter difficulties in finding the AC Compressor for your Plymouth Acclaim, give us a call and we will find it for you. As we have warehouses all across the country, you can be assured of receiving the ordered parts on time.
Taking care of our customers is our top priority, and our great online customer reviews prove this. To know more about our services and AC parts, you can call our toll-free support line at 1-877-360-7044 or email us at [email protected]. Our US-based car specialists are here to answer all your questions regarding our AC parts.