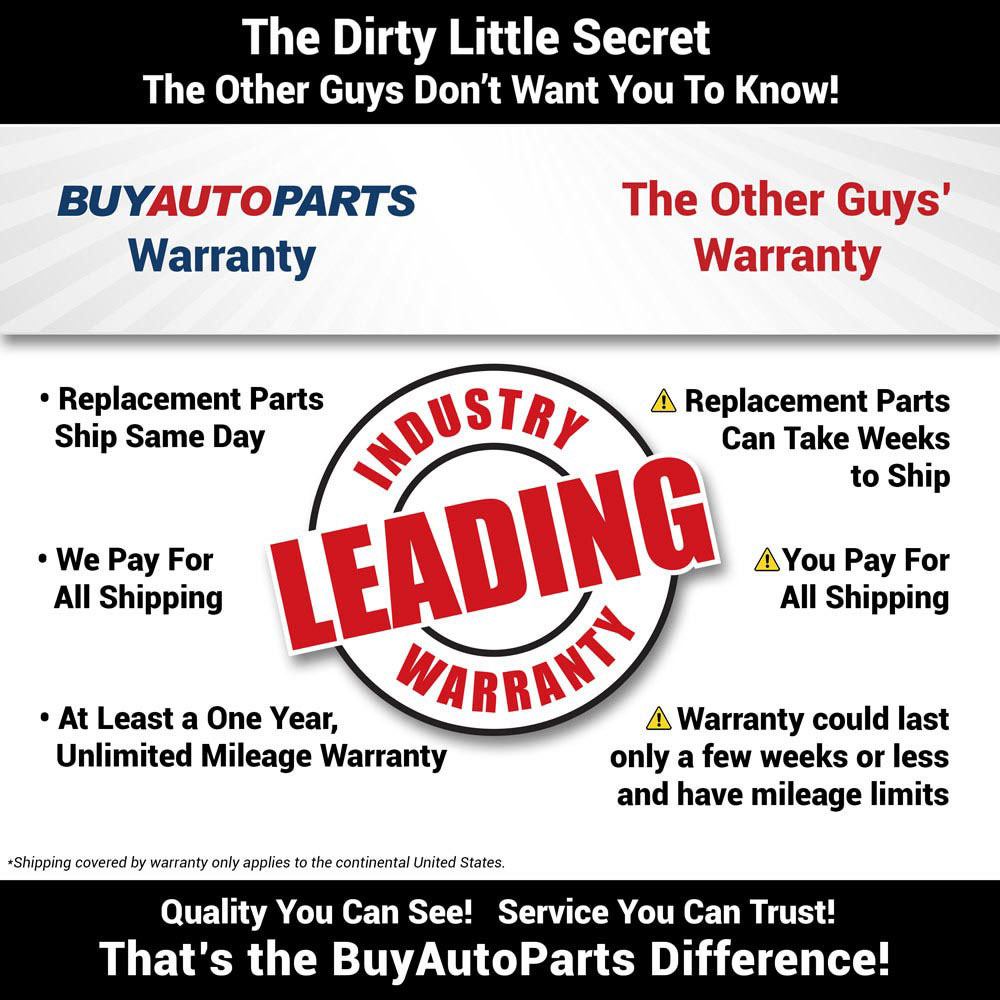 BuyAutoParts.com offers the best warranty service in the industry, without question. The warranty details can be found below, but the most important thing to remember is we are here to make it easy to warranty your part. If you need warranty assistance, or just have questions, please do not hesitate to contact us.
BuyAutoParts.com offers a one year, unlimited mileage warranty on all parts sold unless otherwise noted. In some cases, an even longer warranty is included for free. If you would like to purchase an extended warranty please contact us. We only offer the highest quality parts available, but in some rare cases there are manufacturer's defects. If you have a defective item under warranty we offer options to make warranty service easier for you and we will send you a new replacement auto part. However, our warranty does not cover any labor that may be involved with your repair. In most cases you have the following options for warranty service: 1) You may return the warranty item to us for a replacement. 2) You may pay a deposit and have a replacement item sent in advance. If you elect to return a warranty item first, once the return is received and inspected (usually within 72 hours of receipt) your replacement part will be shipped within 2 business days. If you elect to pay a deposit before shipping back the warranty item, once the return is received and inspected (usually within 72 hours of receipt) your refund will be automatically processed and issued to your credit card within 2 business days. Keep in mind, depending on your credit card company, it may take an additional 2-7 business days for the refund to post to your account. In either case we pay for shipping within the continental USA. Our warranty is superior to any other auto parts vendor because we offer the highest level of service.
Please Click Here for Extended Parts warranty
Please Click Here for AC Parts warranty
Please Click Here for Turbocharger Parts warranty
Legal Version
We warranty all automotive parts to be free from defects in material and workmanship for the period specified on your invoice. It begins from the date purchased. This warranty does not apply to parts unless the installation instructions are followed in their entirety. If instructions are not available the work should be performed by a licensed mechanic.
This warranty does not cover any expenses incurred in the removal and / or reinstallation of the auto part. Specifically, this warranty does not cover any expenses for TIME, RENTAL, OR OTHER PARTS not purchased from us, or ANY LABOR. This warranty covers fixing or replacing the part only. This warranty is offered only to the original purchaser of the part. This warranty does not apply, and will be voided, if the auto part sold has been damaged by abuse, misuse, accident, neglect, or alteration, or if it has been repaired by anyone other than us. Your warranty will be null and void if the part fails due to improper installation. If the auto part sold should prove defective in material or workmanship within the warranty period, return the auto part to us, postage prepaid, along with your sales invoice. Your dated invoice will establish your eligibility for the warranty. We will, at our option, replace or repair the part free of charge and return it to you postage prepaid.
If the terms of a warranty which are agreed upon between a customer and a representative of BuyAutoParts.com for an order placed over the phone differ from the standard warranties available for a part for purchase on BuyAutoParts.com, then the terms agreed upon during that phone conversation, documented in the internal customer file, and included in the original order invoice are binding.
THE EXPRESS WARRANTY SET FORTH ABOVE IS EXCLUSIVE AND NO OTHER WARRANTIES OR ANY KIND, WHETHER STATUTORY, ORAL, WRITTEN, EXPRESSED OR IMPLIED, INCLUDING ANY IMPLIED WARRANTIES OF MERCHANTABILITY OR FITNESS FOR A PARTICULAR PURPOSE SHALL APPLY. THERE ARE NO WARRANTIES WHICH EXTEND BEYOND THE DESCRIPTION ON THE FACE HEREOF. THE CONSUMERS EXCLUSIVE REMEDIES FOR BREACH OF WARRANTY AND OUR ONLY OBLIGATION ARISING OUT OF OR IN CONNECTION WITH BREACH OF WARRANTY SHALL BE THOSE STATED HEREIN. WE EXPRESSLY DISCLAIM LIABILITY FOR INCIDENTAL AND CONSEQUENTIAL DAMAGES CAUSED BY THE AUTO PART SOLD.
We are also very interested in what you think about BuyAutoParts.com. Please let us know by dropping us an e-mail at [email protected]
You can also contact us by phone.
Toll free : 1-800-241-3197
Direct : 1-858-200-0516
Subaru Turbochargers - Due to oil starvation caused by the banjo bolt and in accordance with Subaru's service bulletin, the factory oil feed banjo bolt must be replaced in order to qualify for warranty coverage for all Subaru turbochargers.
PT Cruiser & SRT4 Neon Turbochargers - Part No. 40-300083 - Due to frequent system contamination, we require the oil line to be replaced in order to warranty the part. It is the customer's responsibility to provide proof of purchase and install of the oil line.
Electric Steering Racks - Electric Steering Racks come with a 1 Year Parts Warranty. We offer a full 3 Year Warranty on all other Steering Racks, unless otherwise noted.
Car Radio and Navigation units - These units may require dealer programming, please consult your local dealer prior to install.
Brake Pads - BuyAutoParts.com's Brake Pad warranty covers defects in materials or workmanship only. They are covered by a 12 month unlimited mileage warranty. Warranty is invalid if product is used for taxi/hire car, racing, rally, drifting, trackday experience driving, or any other form of competition. There is absolutely no warranty on any product for race use. Warranty does not cover brake noise or normal wear and tear. Some brake pad systems cause pads to wear faster than others.