Get the parts you need today. Pay later with

. Learn more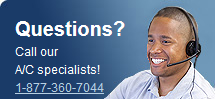 International Customers, please review our international shipping policies for placing orders and to know more about Shipping, Payment, and Warranties.
Air
Conditioning
Parts
Shop Automotive Air Conditioning Parts
Automotive AC Parts
Air Conditioning Parts – AC Compressors, AC Kits, Condensers, Evaporators & More
Once considered a luxury – AC was an option for most new car purchases up to the 1970s and 1980s – air conditioning is now considered an essential operating system for all cars on the road. Driving without AC is considered unbearable in many parts of the United States.
Keep your car cool, even when it's sweltering outside – browse BuyAutoParts.com for all the top car air conditioner parts. We have an incredible assortment of quality auto AC parts, including compressors, driers, evaporators, expansion devices and more. From this page, you can browse our primary AC parts, learn more about your car's AC system and also start the ordering process!
All of our air conditioning parts are manufactured to perform as well as their original factory base component. And that means that, no matter how hot it gets outside, your car stays cool inside – plus, you'll save plenty of money with BuyAutoParts.com. If you do your own AC repair or replacement projects, you'll also avoid super-pricy labor expenses. But even if you just want to save on an AC compressor, AC kit or other air conditioning component, we're your #1 AC parts outlet. Many of our customers purchase auto air conditioner parts and give them to their local mechanic. Either way – parts & labor or simply parts– you'll enjoy terrific savings.
A Brief History of Automobile Air Conditioning
So where did air conditioning for cars originate? Over a hundred years ago, AC was the last thing on auto makers' minds. Simply manufacturing automobiles for the masses at relatively affordable prices was an accomplishment in itself. All the "modern conveniences" we take for granted today – power steering, heated seats, Bluetooth audio, navigation, tire pressure monitoring, and yes, air conditioning – were still a long way from becoming a reality.
But after a few decades, two things happened to automobiles that required automakers to consider air conditioning.
They became more widespread. Essentially, cars migrated from their northern (Detroit and other rust belt cities) roots to other areas in the United States, including the hot & dry southwest and the steamy south.
A closed cabin design became popular. The first vehicles were open air, so air conditioning wasn't even a possibility during the 1910s through the 1930s. But as cars became larger, safer and better-equipped to handle families, the first thoughts of car AC were born – and with it, a revolutionary new system was about to change the way we viewed cars forever.
Non-auto air conditioning got its start in the early part of the 19th century, when air was blown over blocks of ice. It took another hundred years (from about 1830 to 1939) for the first automobile air conditioning system to become available for everyday car buyers. The Packard auto corporation announced a forced air conditioning cooling system in 1939. By modern standards, this "air conditioning" was unrecognizable. In fact, it really wasn't even air conditioning, by the strict definition. There were no fan controls, very little vent control, no temperature settings and the air actually moved from the rear of the car toward the front. Can you imagine such a car today, with air conditioning being distributed from the trunk?
Packard took a lot of heat (pardon the pun) for their "auto air conditioning," yet their innovation set the stage for rapid advancement of car AC systems. In the 1940s, many air conditioning systems started moving toward the front of the car, as opposed to Packard's original design. Consumers enjoyed the comfortable temperatures, especially in those regions with hot summer and sticky autumn seasons.
In the 1950s, other advancements continued apace. Vent tilt control, which doesn't seem like a big deal today, became a widespread feature of car AC systems in the Eisenhower era. Not long after that, temperature controls were introduced. This "customized climate control," as some clever advertisers called it, was truly empowering for many car owners. For the first time in history, cars were able create their own internal temperature setting. No longer was AC a strictly home luxury. Now, people were taking their AC along with them. It's not an understatement to say that auto AC was one of the most influential car technology breakthroughs in history.
By the time the 1970s rolled around, about 50% of all cars sold in the United States had factory installed air conditioning. And this started the car AC parts boom; drivers quickly became accustomed to traveling in comfort, and as soon as something went wrong, air conditioning parts were at a premium.
BuyAutoParts.com offers auto AC parts and components for any domestic or import car – simply browse our part finder to see for yourself!
Our Auto AC Parts – Something for Everyone!
BuyAutoParts.com has every type of air conditioning part on the market. We sell system-wide components, specialized parts, accessories, tools and everything else to help you install your air conditioning parts right the first time, each and every time! Plus, every auto AC part we sell comes with our industry leading Best Price Guarantee, where we'll match any competitor's price. Simply let us know the price of a comparable part, and we'll meet or beat the lower price – guaranteed!
Here's a partial list of some of the car AC parts you'll find at BuyAutoParts.com:
AC Compressors
The heart and soul of your auto AC system, compressors do exactly what their name says: they "compress" the AC refrigerant from liquid to gas, enabling your AC to produce the cold air that exits the vents. Without an AC compressor, things will heat up in a hurry! We recommend you purchase an AC compressor with the exact specifications of the original factory part to ensure proper function.
AC Kit
Need all-in-one value and one-stop shopping? Check out our AC kits. They include multiple parts and components for fast, affordable and efficient replacements. O-rings, compressors, hardware and more – everything you need for 100% successful AC installations is right here!
AC Compressor and Component Kit
Find AC compressors and component kits right here at BuyAutoParts.com. No other online distributor offers our combination of exceptional value and trusted quality.
AC Condenser
If your car AC system isn't condensing, it's not working. Period, end of story. The AC condenser changes the refrigerant from a gas state to a liquid state. This is essential for your car's air conditioning to produce the liquid and gas dynamic that makes the whole system function properly. When your AC condenser goes bad, you'll notice icy vents, frost near your AC panels and other telltale signs. Most car experts consider the AC condenser the 2nd most important air conditioning part, right behind the compressor.
AC Drier
The AC drier isn't a one-trick pony. In fact, it's one serious multitasker. The drier (also called receiver) takes moisture out of the AC system, stores extra liquid coolant, filters the refrigerant to remove solids and other substances, and also filters the vapor / water / gas mixture for foreign objects.
AC Evaporator
The AC evaporator is basically your car AC's second largest heat exchanger. It actually looks like a small radiator, complete with the metal fin surface for accepting refrigerant. The evaporator is also a humidifier, because your AC system's cool air contains practically no moisture. Through the evaporation process, moisture is entered back into the system, allowing the compressor, condenser and other AC parts to do their magic. The evaporator also signals the temperature controls to open and close, which gives you the ability to make your AC air ice-cold or a little bit cool.
AC Expansion Device
Also called the expansion valve, this device drops the liquid pressure level, when necessary. Once the pressure drops, the expansion device alters the refrigerant to a super cold mist. Without the AC expansion device, it wouldn't be possible to feel cool air coming out of the vents.
BuyAutoParts.com – Your Headquarters for Auto AC Parts
When it comes to car air conditioner parts, only the best will do. You need the best performing automotive AC parts preferably at the lowest price. With BuyAutoParts.com, you get the best of both worlds. We only sell premium car AC parts at value-added prices. All of our auto AC components are quality tested to perform at least as well as their original factory counterparts. If you're plan to purchase an AC compressor, AC kit or other auto AC components, no other parts store gives you the quality, convenience, value and service you'll get at BuyAutoParts.com. We're become a prime source of air conditioning parts for domestics and imports.
Experience the difference with BuyAutoParts.com. From major air conditioning parts replacements to minor automotive AC parts purchases, we're your one stop shop for staying cool. Stay on top of your car AC parts maintenance and call BuyAutoParts.com today. Our air conditioning parts consultants can be reached at (888) 907-7225, and we also provide a convenient, quick-answer chat session on our contact page. Regardless of your car air conditioner parts needs, BuyAutoParts.com can help you today.
Air Conditioning Parts Resources

Buyer's Guide: AC Compressor
The AC Compressor is the central component of your AC system and when your AC stops working, it is likely due to a faulty AC Compressor. Being one of our most commonly sold replacement parts, we are automotive AC experts who can help guide you through the buying process to ensure you do not make any mistakes.

Repair AC Parts
We have so many resources for automotive air conditioning parts that it makes it impossible to list them all out. Check this page out for a list of all AC part repair resources.

How Much Does an AC Compressor Cost?
While costs range from affordable to very expensive you can rest assured that you are getting the best prices on AC compressors and AC Kits without sacrificing any quality. This page breaks down typical costs of the part(s) as well as how much labor typically costs to replace the part(s).

How Automotive AC Works Infographic
This neat gifographic shows how automotive AC works. Understanding how your AC system works has countless benefits, one of them being that you will know what is wrong when you need to replace something in the AC system.

AC Replacement 101
Thinking of fixing the AC in your car on your own? This article is a great checklist of what you will need to do the job right!
Recent Air Conditioning Parts Videos
Air Conditioning Brands
Air Conditioning Part Categories