Get the parts you need today. Pay later with

. Learn more

The Starter repair "How To" section of our site is here to help when you need that little bit of extra knowledge to get your project up and running. From the list below select the video or article that is related to info for the product line desired.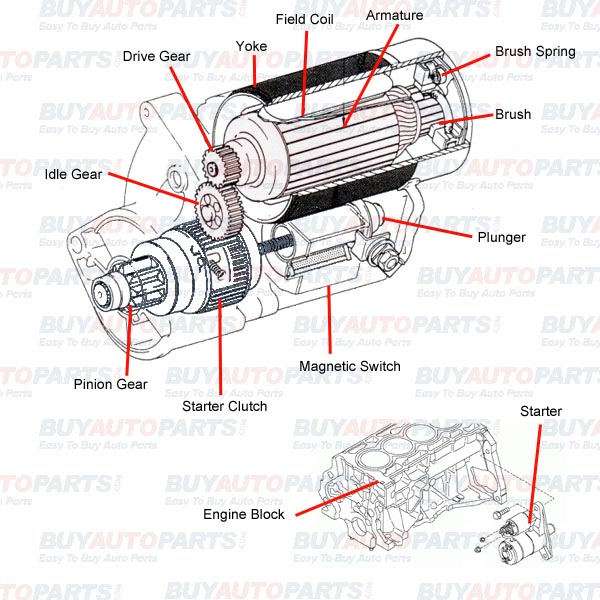 The starter motors are used to start the engine by turning the flywheel attached to the crankshaft. Once the engine starts, the starter motor disengages from the flywheel, allowing the engine to run on its own. The main components of a starter motor include the starter, the electric motor and the battery. The electric motor consists of an armature surrounded by heavy copper wire. The whole set up is placed in an aluminum or steel case that is fitted with electric brushes.
When the current flows, the electric brushes pass it to the copper wire, causing the armature to spin. The armature then extends the Bendix gear out to engage with the flywheel, thereby turning the engine. When the engine starts its combustion process, the gear disengages. Common problems with the starter include burnt electric brushes/wires and a sticky Bendix gear. A defective starter motor usually emits clanking, clicking or grinding noises, when the ignition key is turned on.
Purchase high-quality Starters at Buy Auto Parts
If you are looking to buy a genuine starter, Buy Auto Parts is the right place. We will get you the starter once you select your automobile's right year, make and model. Coming with an industry-leading warranty at unbeatable prices, our starters are meticulously tested to meet or exceed industry standards. We also offer free shipping for purchases over $99. Your order will reach you on time, as it will be shipped from one of our warehouses close to your location. If you have trouble in locating your part, our support team is at hand to help you: call us at or leave us an email at [email protected]. You can browse through our extensive line of throughly-tested OEM replacement and aftermarket parts for every make and model.
If the info you need is not covered in this section feel free to send us a message in our support section.
"How To" Home | BuyAutoParts Home