Take an Additional $10 Off AC Kits. Use Coupon Code ACKIT10

Your Search for the Perfect Mazda Shock and Strut Set is Almost Over!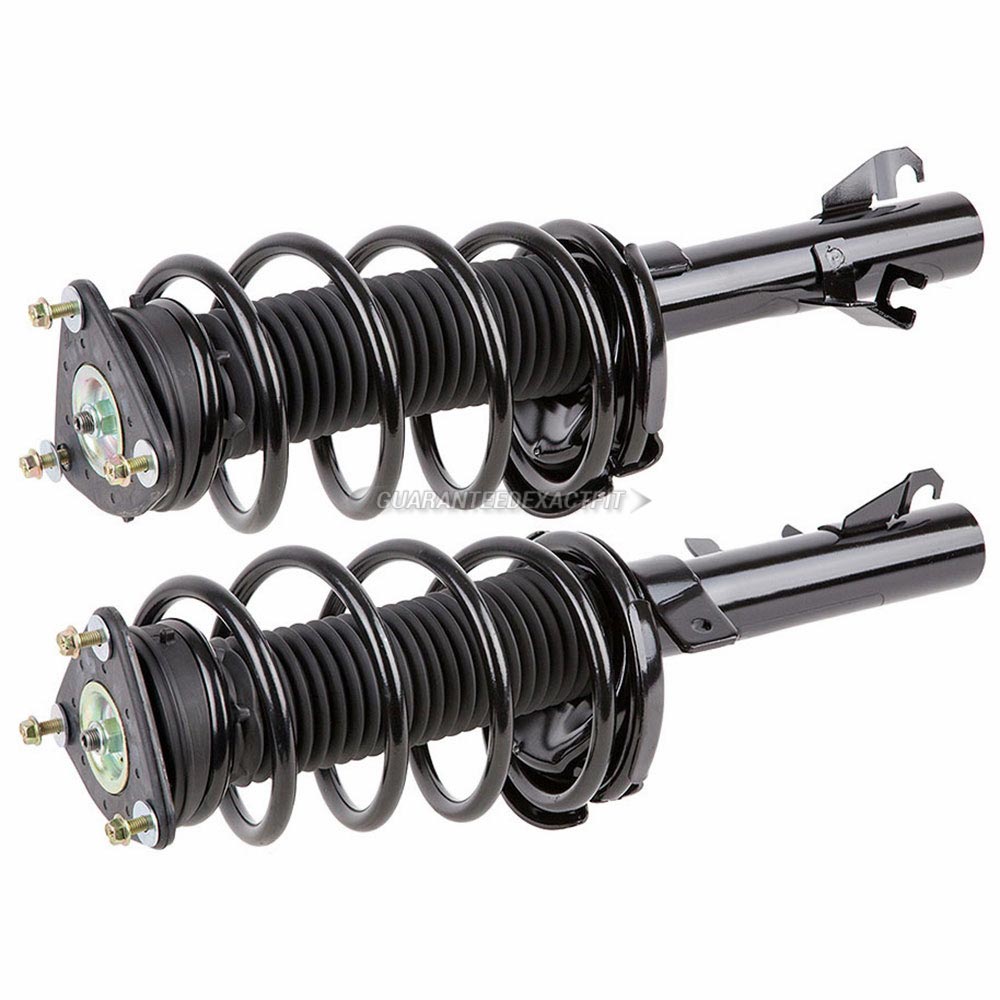 Mazda is a Japanese automaker founded in 1920 in Hiroshima, Japan. It began as the Toyo Cork Kogyo Co., which produced machine tools and weapons for the Japanese military through WWII. The company did not officially adopt the Mazda name until 1984 but all their vehicles bore the name before that. Your Mazda's performance is important for you since you like to pretend you are a racecar driver. Sometimes when you are cruising in your Mazda you like to take your turns a bit faster than usual. The problem is that you live in a place where your streets are not the best. There are a lot of potholes and uneven bumpy spots in the road and this puts a lot of pressure on your Mazda shocks and struts.
You might have noticed that your ride quality has not been the same and that your Mazda is taking quite the nosedive when you brake. You know this indicates a problem with your Mazda shocks and Mazda struts. Some other signs that may indicate a problem with your shocks and struts will be your vehicle taking a body roll which refers to how the body of a vehicle feels based on the overall movement. So when the shocks and struts start to go bad your Mazda may have a leaning feel even when taking small, slight turns. Another sign to look out for are a squat like feel when accelerating from a stop. The momentum of the vehicle will be transferred to the rear, which will cause the front end to rise slightly.
The last two signs that may indicate damage are going to be visible damage to your Mazda shock or strut. Your shocks or struts have a piston like design that has hydraulic fluid to help stabilize and control the vehicle so any leakage will indicate time for suspension work. The last sign to look for is a squeaky sounding Mazda from all the bumps it has taken.
Your Mazda shock and strut kit will be an important replacement to help get your Mazda suspension system back to work. The smooth feel of your Mazda when you are pretend-racing is due to your shocks and struts. Your shocks and struts will be vital to the proper functioning of the suspension and steering power of your Mazda. Your Mazda shocks will reduce or slow down the vibrations of the road by dampening. Your Mazda struts will integrate various parts of your Mazda's suspension. So Mazda struts are advanced shocks but with more functions. The Mazda strut will be mounted directly to the vehicle on one end and attached to the vehicles suspension on the other end.
The Mazda shock and strut kit will complete with everything you need to replace your poorly functioning Mazda shocks and Mazda struts. Your Mazda shock and strut kit will come with a new strut, coil spring and strut mount. The spring rates will match the original parts of your Mazda and will be guaranteed to fit.