Take an Additional $10 Off AC Kits. Use Coupon Code ACKIT10

BUY AUTO PARTS IN THE NEWS
San Diego Business Journal: 2014 Top 100 Fastest Growing Private Companies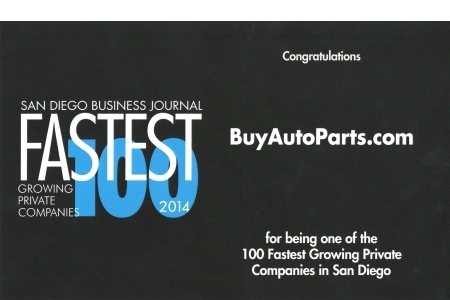 7/11/14- San Diego, CA –BuyAutoParts.com has been named to the San Diego Business Journal's Top 100 Fastest Growing Private Companies List for the second consecutive year! We are ranked 84th in this year's edition and are once again very honored to be included alongside some of San Diego's most exciting companies.
To be considered for the prestigious list a company must be privately held, based in San Diego County and have earned at least $200,000 in revenue in 2011. The rankings are determined by the percentage of growth from the 2013 calendar year in comparison to the 2011 calendar year. In 2013, BuyAutoParts.com hit our revenue goal of $42 million. All financial data from 2011 to 2013 was analyzed by CPA attestations and provided by the companies or sourced by the SDBJ's records.
The full list was formally announced last night, July 10th at a banquet held in Paradise Point Resort and Spa. The list will be published by San Diego Business Journal in the coming months.
It is truly an honor to receive awards such as these as it a testament to all the hard work our employees have put in to provide the best level of service to all of our customers. We would also like to thank our loyal customers for continuously looking to us when they are in need of an auto part for their vehicle, without all our customers we would not be where we are. Being an ecommerce auto parts company based in sunny San Diego is something we are proud of and we will continue to strive for growth, excellent American based customer service and providing an even larger selection of parts for your car on our website.