Home
Call to talk to one of our Parts Specialists

International Customers, please review our international shipping policies for placing orders and to know more about Shipping, Payment, and Warranties.
How to Install an Oxygen Sensor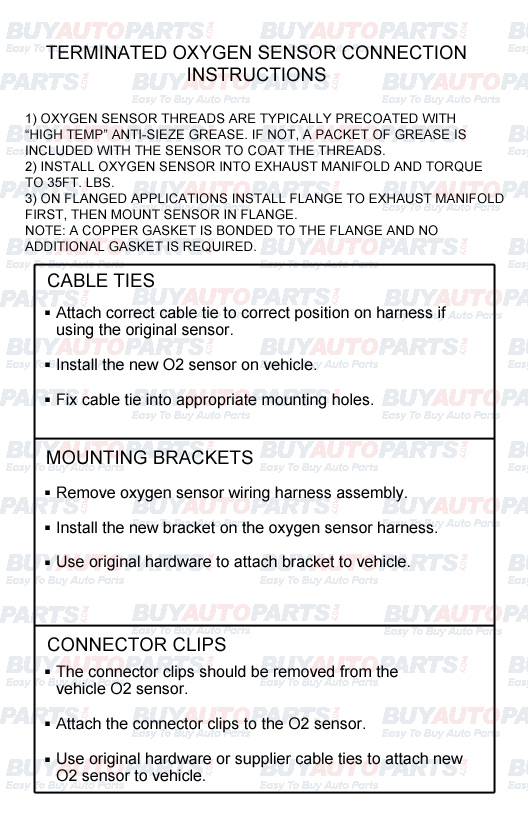 Terminated Oxygen Sensor Connection Instructions –
Oxygen Sensor threads are typically pre-coated with "high temp" anti-seize" grease. If not, a packet of grease is included with the sensor to coat the threads. Install oxygen sensor into exhaust manifold and torque to 35ft. lbs. On flanged applications install flange to exhaust manifold first, then mount sensor in flange. Note: A copper gasket is bonded to the flange and no additional gasket is required.
CABLE TIES –
Attach correct cable tie to correct position on harness if using the original sensor.
Install the new O2 sensor on vehicle.
Fix cable tie into appropriate mounting holes.
MOUNTING BRACKETS –
Remove oxygen sensor wiring harness assembly.
Install the new bracket on the oxygen sensor harness.
Use original hardware to attach bracket to vehicle.
CONNECTOR CLIPS –
The connector clips should be removed from the vehicle O2 sensor.
Attach the connector clips to the O2 sensor.
Use the original hardware or supplier cable ties to attach new O2 sensor to vehicle.
"How To" Home | BuyAutoParts Home