Get the parts you need today. Pay later with

. Learn more

Air Intake Cracks and Leaks Examples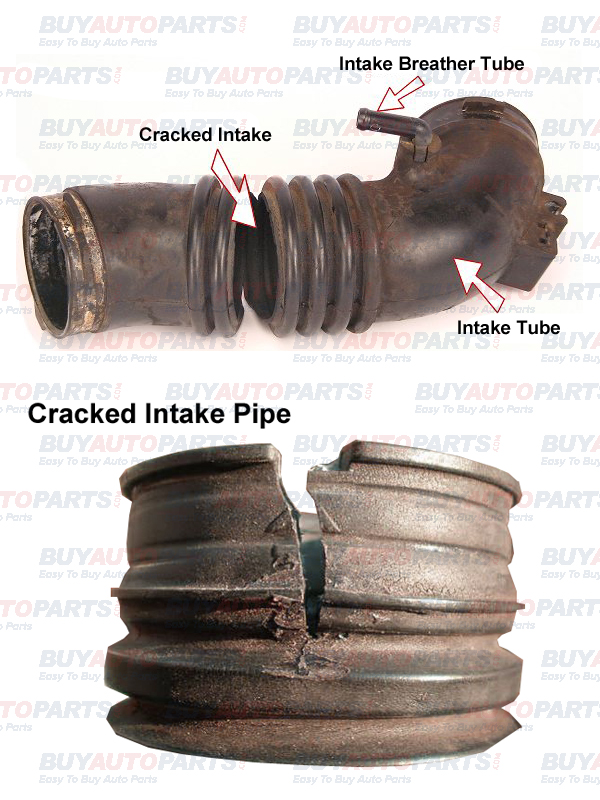 One of the common issues that causes the mass air flow sensor to read incorrectly is an air leak in the intake system. An air leak may not seem very serious but it allows dirt and debris into the engine which can cause issues down the road. When the air passes through the mass air flow sensor, it is calculated at a specific volume and if there is more or less air than the calculated amount, it can cause major issues for the motor. More air can cause a car to run lean which means that there is too much air and the fuel is burning too quickly. This means the combustion will not have as much power to move the piston. Running lean can also cause detonation in the engine chamber and damage your piston.
With a leak that is allowing air to escape from the intake, the engine will run rich which means there is too much fuel in the cylinders and not all of it is being burned off during combustion. If all the fuel is not burned off, it can be a big problem. The unburned fuel can cause back firing and just a general lack of power. Too much fuel means the engine will bog down and in some cases become flooded which can cause the car to stall or lose significant power.
In cases of mass air flow meter issues, it is always a good idea to start by inspecting the intake system. Many times the mass air is still reading right but the amount of air that it has calculated has been changed due to a leak in the system. Due to age or continuous exposure to heat, the air intake manifold gaskets may develop cracks. The following are some of the common symptoms of a leaky air intake:
Symptoms of Air Intake Cracks and Leaks:
Engine Stalling/Hesitating:
A cracked intake manifold may supply insufficient air or excess air to the engine resulting in a failure to achieve the perfect air-fuel ratio. This induces engine to hesitate, stall or have a rough idle.
Check Engine Light:
If the engine is not operating up to its standard, the "Check Engine" light will glow. As the air leak brings down the engine output, it lights up "Check Engine" light in your dashboard, as an indication that all is not right with your car.
Noises:
A cracked intake manifold will cause a loud whistling or hissing noise to be emitted from the engine.
Choose your vehicle's right year, make and model and find your matching parts!
Buy Auto Parts is the best place online to get replacement parts that come with a warranty at unbeatable prices. We stock a wide range of OEM replacement and aftermarket parts for every make and model. To find the right part for your car, simply tell us your car's year, make and model. Your orders will be shipped from the warehouse closest to your location. We offer free shipping for purchases over $99. Our products have been throughly tested to meet or exceed industry standards. You can reach us on our support line at or leave us an email at [email protected], if you need help in choosing the part. Please feel free to leave us an online review. We value your feedback!
"How To" Home | BuyAutoParts Home