Get the parts you need today. Pay later with

. Learn more

How Much Does a Catalytic Converter Cost?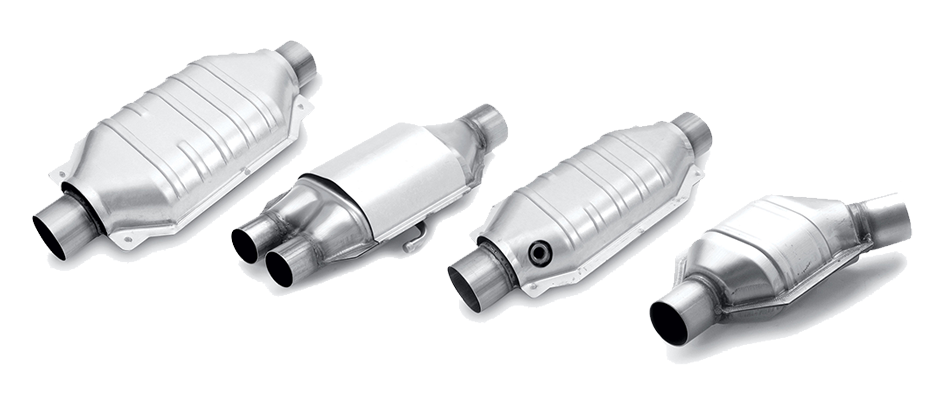 If you're able to clearly see a city's skyline or breathe easily in an urban area, you can thank the catalytic converter. At its most basic level, it acts as a filter on your vehicle's exhaust. Instead of using a regular filtration element to capture particles, it's loaded with metallic compounds that chemically react to capture either unburnt fuel from a vehicle running too rich, or NOx contaminants from one running too lean. Cats are required on all new vehicles, and depending on where you live, they are required to pass a visual inspection or smog check before you can register your vehicle for use on the road. In the table below we've included the msrp (list price) of 5 of our best selling catalytic converters as well as our price for that same part.
Vehicle
Dealership Repair Cost
DIY With BAP
Year, Make & Model
List Price
Labor Cost ($130/HR)
Total Cost
Our Price
Savings
Vehicle
OEM (Original Equipment Manufacturer) Number
List Price
Our Price
Labor Time (hrs)
Independent Shops Estimate National Avg Labor Cost ($100/HR)
Dealerships Estimate National Avg Labor Cost ($130/HR)
2006 Nissan Titan
19121626
$1,042.54
2.4
$709.21
$312.00 (2.4 hrs)
$1354.54
$709.21
$645.33
1999 Honda Civic
22683260
$493.85
0.8
$335.95
$104.00(0.8 hrs)
$573.85
$335.95
$469.85
2004 Toyota Corolla
702550270
$571.15
1.2
$388.54
$156.00(1.2 hrs)
$727.15
$388.54
$388.61
2006 Honda Accord
17040EA000
$238.32
0.8
$162.12
$104.00 (0.8 hrs)
$342.32
$162.12
$180.20
2008 Hummer H3
2L1Z9H307BG
$1,152.98
2.7
$784.34
$351.00 (2.7 hrs)
$801.00
$784.34
$16.66
Don't miss out on our exclusive offers
Get instant savings, exclusive deals, and limited-time promos.
How to Save Money on a Catalytic Converter?
For the most part, your catalytic converter should last the life of the vehicle. If your vehicle is running properly, the exhaust gas should already be relatively clean, so the converter won't have to work too hard. You can make your catalytic converter last longer by using the correct grade of gas for your vehicle, keeping it well-maintained, and acting quickly to resolve check engine lights. You can play it extra safe by replacing your oxygen sensors proactively; they monitor the performance of your converter, but if they provide bad information to your ECU, it can affect your air/fuel ratio, which will in turn affect your emissions performance.
The most common way faulty catalytic converters are spotted is with a check engine light code P0420; this indicates the converter is not as efficient as it needs to be. It's measured by comparing the data fed by both the pre-cat and post-cat oxygen sensors. If both sensors show air/fuel ratios outside of normal parameters, it means either one of the sensors is providing an incorrect signal, or the converter is not doing its job. You can also listen for a rattling noise that becomes present as the metallic element inside the converter degrades. If you have a laser thermometer, you can check the temperature of your exhaust pipe before and after the converter. If you notice that the exhaust after the cat is much cooler than before, your converter could be clogged. Please be careful if you do this; the entire exhaust system, and catalytic converter in particular, get VERY hot.
Find Your Catalytic Converter
Once you determine that you do, in fact, need a new cat, the next step is finding the correct one. Early converter-equipped vehicles will just have the one converter, while most OBD-II compliant vehicles (model years 1996 and newer) will have two; one upstream and one downstream. Vehicles with V6 or V8 engines will likely have two upstream converters; one for each cylinder head, and if they have dual exhaust, that means two downstream converters as well.
Once you figure out which converter position you need, you then need to find out the performance specifications. There are two levels of catalytic converter; ones approved by the EPA for federal use (also referred to as 49-state), and ones approved by CARB, or California Air Resources Board, for California's stricter standards. If you live in California or New York, you MUST buy a CARB-legal converter; you will not pass a visual smog inspection without the CARB EO (executive order) number present that matches your vehicle application, and it is illegal for retailers to ship a non-CARB legal converter to either of those states. Several other states have also adopted California emissions standards, so it's important to check your local laws or ask a smog technician what exactly you need before ordering a replacement.
For some vehicles, you will also need to check the emissions equipment label located under the hood. Most new cars today use a CARB-legal converter in all 50 states, but some older models might have two versions available; a CA-legal one and a Federal one. The catalytic converters could be physically different, so if your vehicle originally had a CARB cat on it, a 49-State one may not fit. If your car originally had a CARB converter, but you don't live in a CA-emissions area, a Federal replacement might not even fit. Because of this, confusingly enough, you can buy a catalytic converter that ONLY fits CARB-equipped vehicles, yet is not actually CARB-legal.
So, just to be clear, there are four things you need to be sure of to make sure you order the correct catalytic converter:
Your vehicle's exact year, make, model, engine size and other specifics
Which converter on your vehicle needs to be replaced
Whether your vehicle originally had California or Federal emissions equipment
Whether the area where you live requires a Federal or CARB-approved converter.
Catalytic Converter Labor and Part Costs
Because of all the variety of options there are when buying a new converter, prices can vary wildly. 49-State universal or weld-on converters can start around $100, but prices go up from there for direct-fit replacements or converters that are part of larger exhaust pipe or manifold assemblies. On average, getting a CARB-legal converter adds about $100 to the price as well, since the manufacturer must pay for the CARB certification process. At the top end of the scale are converters for modern diesel engines, which naturally produce higher emissions. Diesel oxidation catalysts or particulate filters (also known as a DPF) usually start in the low-four-figure range, but converters for most standard gasoline vehicles are well under that.
Once you identify and purchase your catalytic converter, it's time to install it. If your new converter is a direct-fit or bolt-on replacement, it will have flanges so you can just unbolt the old converter, and bolt-in the new one in its place. This can be relatively easy or difficult, depending on your experience and the location of the converter. Undercar cats are usually the easiest to replace, especially if you can get the vehicle on a lift or jack stands tall enough to reach it. This location, however, is more susceptible to rust, so it can be difficult to get the original one off. Conversely, it could be located under the hood; while the chances of rust are lower here, the part is a little more buried, making the connection points harder to reach. You can save money on the initial purchase price by ordering a weld-in or universal converter, but to install these, you'll need to cut out the original part with a saw and use a welder to replace the missing section of exhaust with the new converter. Most exhaust and muffler shops are equipped to do this. It's also recommended to replace your oxygen sensors along with your cat. They're inexpensive compared to the converter itself, they're easier to access when you're already replacing it, and it will ensure better long-term performance from the new cat.
Replacing your catalytic converter can be a daunting and potentially expensive job, but if you go into the process well-informed, it doesn't have to be. If you're still unsure about what's best for your vehicle, feel free to contact BuyAutoParts for knowledgeable assistance in getting the best emissions parts for your vehicle. We carry guaranteed exact fit catalytic converters, oxygen sensors and air pumps from known brands like MagnaFlow, FlowMaster, DEC, Eastern Catalytic and more. All our parts professionals are here and ready to help!
More Vehicle Specific Estimates & Costs
Some of our top-selling catalytic converters, their compatible vehicles and their approximate costs are listed below:
If you are a DIYer, you will not incur any labor costs. If you choose a professional for the job, you will need to pay for both the part and labor. Here are the approximate shock installation costs specific to some automobiles.
| Vehicle | Approximate Replacement Costs |
| --- | --- |
| 2006 Nissan Titan | $240.00 - $312.00 |
| 1999 Honda Civic | $80.00 - $104.00 |
| 2004 Toyota Corolla | $120.00 - $156.00 |
"How To" Home | BuyAutoParts Home