Get the parts you need today. Pay later with

. Learn more

Spider Injector Replacement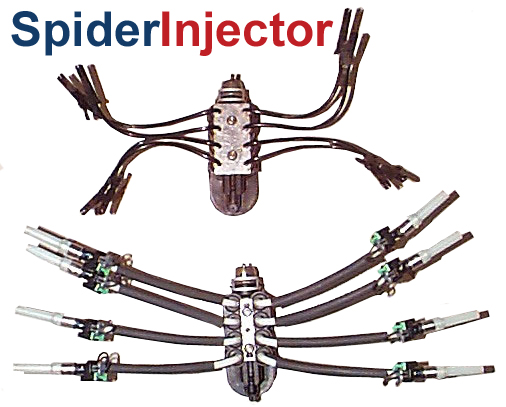 Spider Injector Replacement
The spider injector can be a problem for drivers of GMC trucks. Depending on your situation you may need to do a full spider injector replacement or just replace individual injectors. Either way, this is a general overview of how to change spider injectors and how to replace spider injectors so you can understand your choices.
Spider injector replacement isn't difficult, so long as you're careful. First remove the injectors from the body of the fuel meter. While you do this, check to make sure that there are no cracks in the meter body. If there are you can replace it or fix the cracks by welding the plastic.
The individual spider injectors, also called poppets, are inside black plastic tubing. If the tubing is very brittle or cracked you won't be able to reinstall it; in this case you can easily buy more tubing cheaply. Heat the tubing right next to the injector. You can use boiling water to loosen the tubing and then work the injector out of it with pliers.
You'll notice how small the individual injectors are. Be careful that you don't lose them – this happens more than you think and makes your entire spider injector replacement project a bust. Use an air compressor to make this an easy job; the spider injector will fit right into the end of the compressor. Spider injectors typically open with about 40 pounds of pressure, so blast the injector with the compressor (making sure that it's secure enough to not go flying).
If the spider injector opens at around 40 or 45 pounds of air pressure it's reasonably clean. Gradually move up to 60 pounds and make sure it opens each time. You're using the compressed air to begin cleaning the injector. Finally, add carburetor cleaner to the air compressor to finish the cleaning process.
Obviously, if you can't clean the existing injectors properly, you can simply replace them with new spider injectors at this point. Whether you're using the old spider injector or a new one, next you need to put the spider injector back into the plastic tubing. Heat the hose again and push the injector back where it was slowly without forcing it. After it is cool again it's ready to be reinstalled.
Bad Spider Injector Symptoms Made Simple
The BuyAutoParts.com team is staffed by lifelong auto enthusiasts and experts. We love helping you diagnose what's wrong with your vehicle and talk about the options. Here are the signs of a bad spider injector.
One major symptom of a bad spider injector is that your vehicle won't start, especially after sitting several days without running. If your fuel pressure is on target then it's not a bad fuel pump, and the spider injectors may be the culprit. Once you access the injectors you can see if you can clean them or if you need to replace them completely.
Just like all of our parts, each spider injector is guaranteed for quality and backed by a warranty. To find your spider injectors check out our online catalog. BuyAutoParts.com carries spider injectors for every make and model. Not sure about how to find the right spider injectors or how spider injector replacement works? Contact us today with your questions on our toll-free support line at or email us at [email protected].
"How To" Home | BuyAutoParts Home