Get the parts you need today. Pay later with

. Learn more

How to Bleed Steering System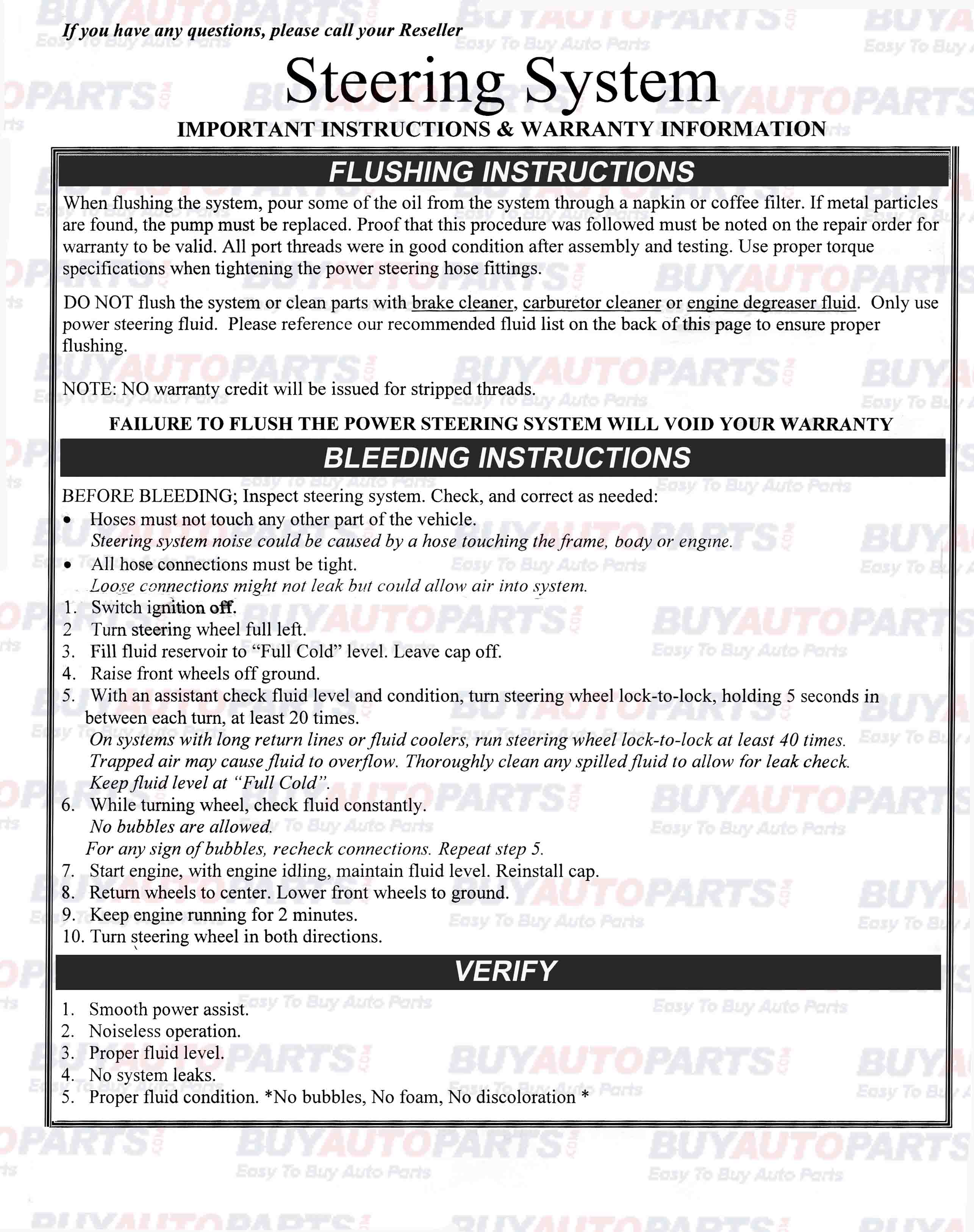 When flushing the system, pour some of the oil from the system through a napkin of coffee filter. If metal particles are found, the pump needs to be replaced. Proof that this procedure was followed must be noted on the repair order for warranty to be valid. All port threads were in good condition after assembly and testing. Use proper torque specifications when tightening the power steering hose fittings.
DO NOT flush the system or clean parts with brake cleaner, carburetor cleaner or engine degreaser fluid. Only use power steering fluid.
NOTE: No warranty credit will be issued for stripped threads.
FAILURE TO FLUSH THE POWER STEERING SYSTEM WILL VOID YOUR WARRANTY
BLEEDING INSTRUCTIONS
BEFORE BLEEDING; Inspect steering system. Check and correct as needed:
Hoses must not touch any other parts of the vehicle.
All hose connections must be tight.
1 Switch off ignition
2 Turn steering wheel full left
3 Fill fluid level to "Full Cold" level. leave cap off
4 Raise front wheel off the ground
5 rotate the wheels left and right 20 times with a second person monitoring the fluid level
6 While turning the steering wheel check fluid constantly.
7 Start engine, while idling maintain fluid level and reinstall cap
8 Return wheels to center and lower car to the ground
9 Keep engine running for 2 minutes
10 Turn steering wheel both directions
VERIFY
1 Smooth power assist
2 Noiseless operation
3 Proper fluid level
4 No system leaks
5 Proper fluid condition. *No bubbles, No foam, No discoloration*
"How To" Home | BuyAutoParts Home