Home
Call to talk to one of our Parts Specialists

International Customers, please review our international shipping policies for placing orders and to know more about Shipping, Payment, and Warranties.
Mercedes Benz Blower Motor Issue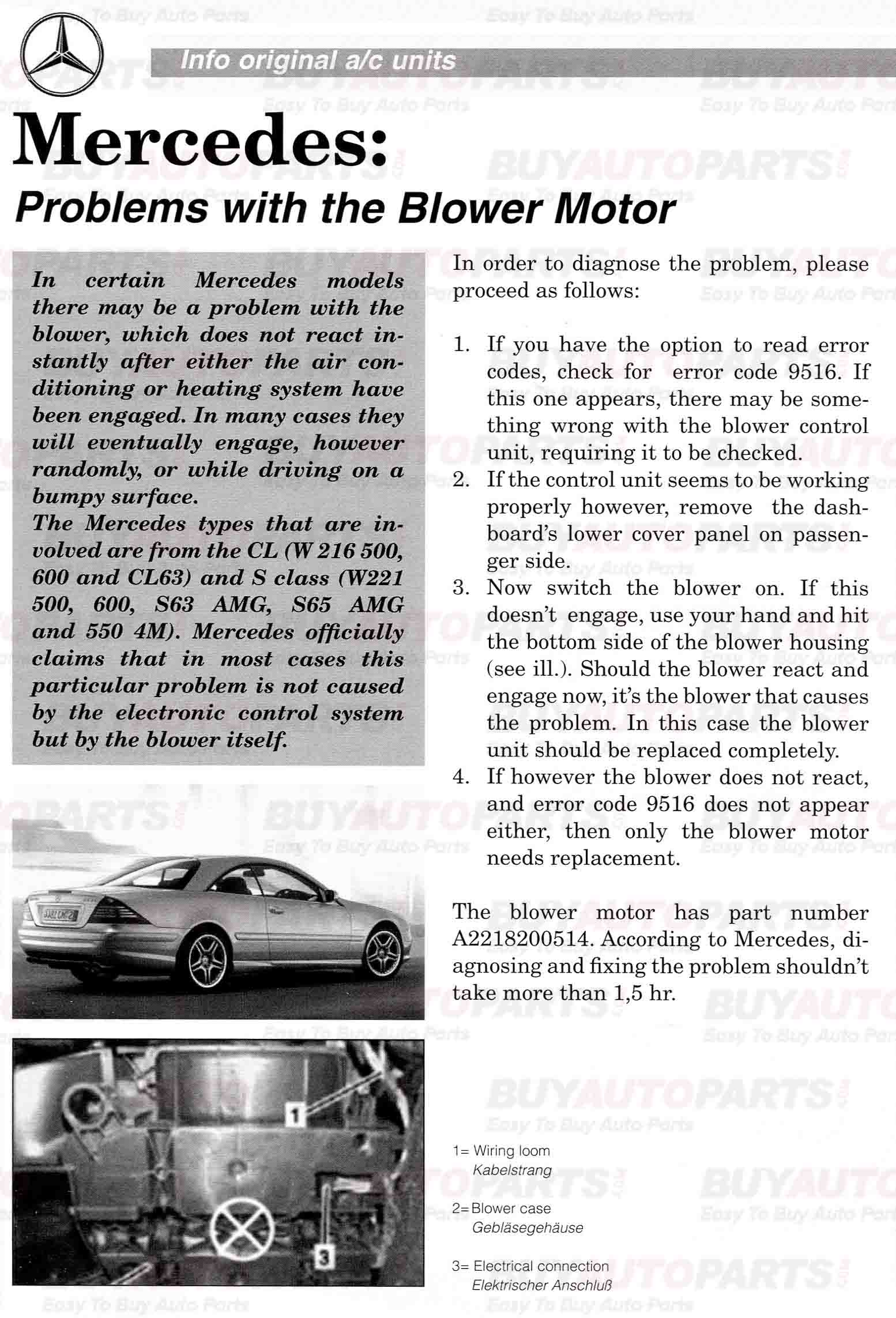 In certain Mercedes models there may be a problem with the blower, which does not react instantly after either the air conditioning or heating system have been engaged. In many cases they will eventually engage, however randomly, or while driving on a bumpy surface.
The Mercedes types that are involved are from the CL (W216 500, 600 and CL63) and S class (W221 500, 600, S63 AMG, S65 AMG and 550 4M). Mercedes officially claims that in most cases this particular problem is not caused by the electronic control system but by the blower itself.
In order to diagnose the problem, please proceed as follows:
1. If you have the option to read error codes, check for error code 9516. If this one appears, there may be something wrong with the blower control unit, requiring it to be checked.
2. If the control unit seems to be working properly however, remove the dashboard's lower cover panel on passenger side.
3. Now switch the blower on. If this doesn't engage, use your hand and hit the bottom side of the blower housing (see ill.). Should the blower react and engage now, it's the blower that causes the problem. In this case the blower unit should be replaced completely.
4. If however the blower does not react, and error code 9516 does not appear either, then only the blower motor needs replacement.
The blower motor has part number A2218200514. According to Mercedes, diagnosing and fixing the problem shouldn't take more than 1.5 hours
"How To" Home | BuyAutoParts Home