Home
Call to talk to one of our Parts Specialists
4th Of July Sale - Up To 45% Off Sitewide! Offer Ends Soon.

International Orders
International Customers, please review our international shipping policies for placing orders and to know more about Shipping, Payment, and Warranties.
The 9 Factors to Consider in Fuel System Diagnostics
The 9 Factors to Consider in Fuel System Diagnostics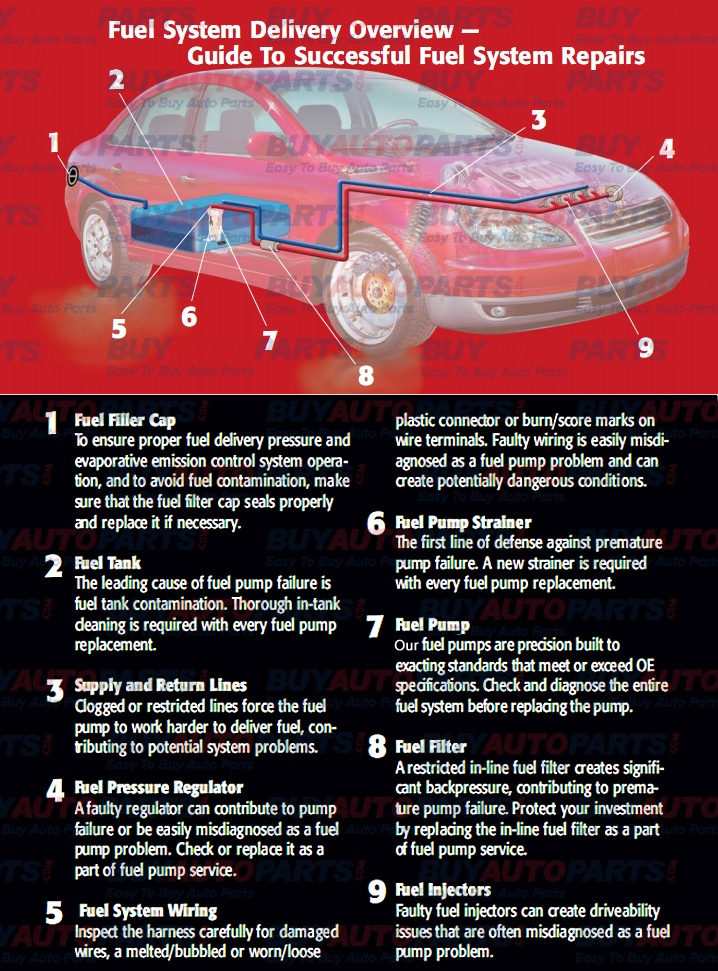 A faulty fuel pump may not be the only failure that your car is facing when having a fuel issue. The fuel pump assembly may be only part of a larger issue, check for other causes to be sure you are not replacing the wrong part. There are 9 factors to consider when a fuel system issue hits your car. The first is the fuel cap, the system cannot pump fuel correctly without the proper seal from the filler cap. Contamination in the fuel tank can also be the cause of fuel system failure by clogging lines or building up on the pump . The supply and return lines may be clogged with debris and will need to be cleaned before proper operation can resume.
The fuel pressure regulator needs to be changed each time there is a fuel system servicing done this will keep the system running smoothly. Wiring in the fuel system can also be faulty and should always be checked for melted, worn or loose connectors. The fuel pump strainer is the first line of defense for the fuel pump and if it is clogged or torn it will lead to premature failure so changing this unit is a must. The fuel filter always needs to be changed at servicing since it captures debris and protects the pump and last but not least the injectors should be checked as well.
A faulty injector can make the car run rough and sometimes be miss-diagnosed as a fuel pump issue, be sure to follow the correct diagnostic steps. Follow these checks and be sure that the issue has been narrowed down to the correct failure without question, saving you time and money.

"How To" Home | BuyAutoParts Home