At Buy Auto Parts, we stock thousands of turbocharger parts at discounted prices, so you can quickly and easily find the turbocharger for your vehicle's make, model and year. In addition to our already low prices, we also offer free shipping on all turbochargers, and frequently offer special discounts and offers, so you'll save even more when you order turbochargers and turbo parts from us. You can also rest assured that you're getting a high quality turbocharger as all of our parts, including Original Equipment Manufacturer (OEM) and aftermarket replacement parts undergo strict quality control standards and come with our industry leading warranty.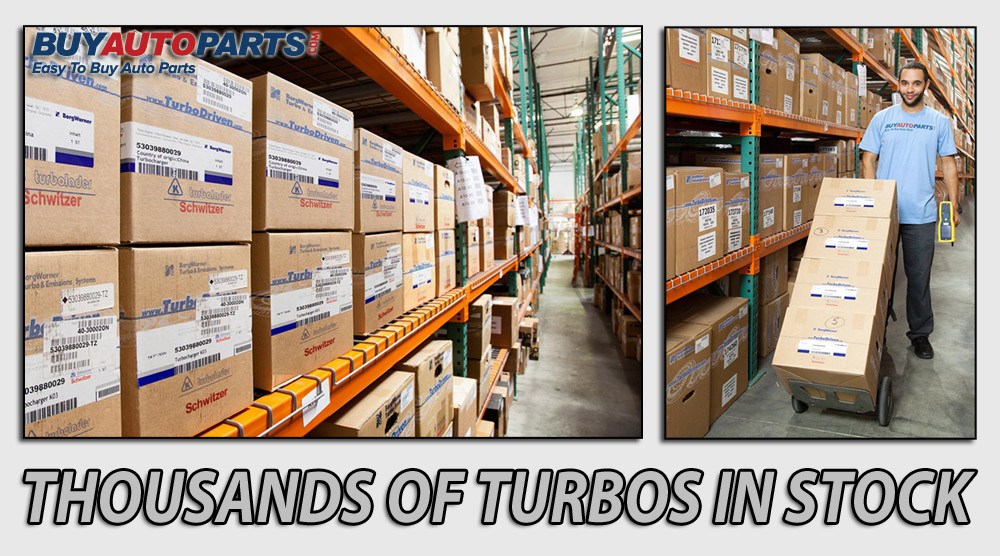 Browse our extensive selection of affordably priced turbochargers to find the right one for your vehicle. Buy Auto Parts understands that when you need replacement auto parts, you need them fast, which is why we have multiple warehouses across the country to get your vehicle parts to you as quickly as possible. If you don't see the turbocharger that you're looking for using our convenient search function, please reach out to us today by phone 888-907-7225 and one of U.S. based turbocharger experts will work with you to find the parts you need.
Welcome to BuyAutoParts.com - Your Home for Turbochargers, Turbo Parts & More
Looking to boost your car's power? Is your car's original turbocharger not performing well, or does it need replaced? BuyAutoParts.com stocks all the best OEM-quality turbochargers, turbo parts and related accessories to give your car the power, performance and reliability you deserve.
Turbochargers -- How They Got Here and Where They're Going
About 110 years ago, the first design for what we now call the common turbocharger was revealed by Swiss engineer Alfred Buchi. Mr. Buchi's bold innovation set in motion a chain of events that continues to revolutionize automobile engines to this very day! And the turbocharger hasn't just changed the car market. Before turbocharging, airplanes travelled at relatively low altitudes. Yet immediately after the First World War in 1919, General Electric's turbocharged airplane engine enabled a world record "flight height" of nearly 29,000 feet!
From the 1962 Olds Jetfire to present day engines, the turbocharger has come a long way. The Jetfire was the first widely available car with a turbocharger, as the F85 version of the Jetfire had an engine-mounted turbo on its V8 engine. The F85 had a significant HP advantage over its non-turbocharged counterpart. With demand growing every year, turbochargers were soon presented as stock engine options for some of the most popular cars in history, including the Ford Mustang (first turbo in 1979), Pontiac Trans AM (1980), Ford Thunderbird (1986) and even the Dodge Neon (2003). Each auto manufacturer has their own unique design attributes, but the general idea for all turbochargers - from the Jetfire to current day models - is the same: increased air intake for better engine performance.
But what are the principle design characteristics of a turbocharger? How do they actually work, and why are they becoming more commonplace?
Turbocharger - Basic Function
As the old equation goes, more input = more output. That's the idea behind a turbocharger. In this case, the "input" is intake air, and the "output" is raw engine performance. Gas mileage is another factor, but for turbocharger enthusiasts, the true benefit of turbos is found in their enhanced engine power.
A turbocharger gathers and forces large amounts of air into the engine's combustion chamber, which immediately produces an increase in total engine power. That's the simplest way to explain a turbocharger's function. How they work on different makes and models is determined by original manufacturer specifications, but the general premise is the same, regardless of the car you drive: more air + forced intake = superior power.
What makes a turbocharger unique is the way it harnesses a readily available element - in this case, free-flowing air in and around the engine chamber - to produce
optimal engine performance. Simple in concept and scope, a turbocharger is an elevated form of air induction technology.
Besides the obvious horsepower benefits, a turbocharger can also deliver exceptional fuel efficiency. Better fuel mileage is also a big factor in helping reduce harmful emissions. It's hard to find an engine component that simultaneously increases power output while decreasing emissions, but the turbocharger accomplishes this rare double feat with relative ease. For these reasons and many more, turbochargers remain one of the most popular components for both everyday drivers and car modification experts.
In pure performance characteristics, how much power does a turbocharger actually provide? Again, it's entirely dependent on your vehicle's specs. Generally, a turbocharged car has about 20 - 25% more total power than a non-turbo car of the same year, make and model. For new turbocharger retrofits, turbochargers installed on vehicles that did not originally include a turbocharger, that output can reach up to 100% -- in other words, double the engine power!
One other thing to consider about turbochargers: in the seemingly endless battle between superchargers and turbochargers, many experts agree that the turbocharger is winning. Actually, some car engine designers, engineers, automobile technicians and car manufacturing executives have declared the clear-cut victor: the turbocharger!
Why Turbochargers Fail
Similar to other engine components, turbochargers require a sensible maintenance schedule to ensure everything is working properly. Turbochargers usually fail because of the following reasons:
Improper lubrication - when a turbo's oil and filter are left in too long, excessive carbon buildup can cause failure
Too much moisture - if water and moisture enter your turbocharger, the components will not perform optimally. This can cause eventual breakdowns in basic function and performance.
External objects - some turbochargers have a large air intake. If a small object (stones, dust, road debris, etc.) enters the intake, your turbocharger's turbine wheels and compression capability can be compromised.
Excessive speeding - if you're hard on your engine, that means your turbocharger has to work twice as hard. Even small cracks or faults in the turbo body can cause the turbo to lag in overall power output.
Other engine components - subpar performance from other related systems (fuel intake, exhaust, electrical, etc.) take a toll on your turbocharger.
Does Your Car Need a New Turbocharger?
If your vehicle includes an original, factory installed turbocharger, it won't last forever (although we all wish they would). Sooner or later, the device will fail - it's only a matter of time. Driving habits, weather conditions and even plain old luck all factor into how long your original turbocharger will last.
Replacing your car's turbocharger is one of the single best things you can do to enhance overall engine performance. But what are the specific signs you should be looking for when deciding if you need a new turbocharger? Turbos have their own indicators of performance decline. Here are some of the most common signs of turbocharger failure:
Check engine light - have your fail codes checked to confirm a turbocharger issue, as a check engine light could indicate dozens of problems, not just turbocharger issues.
Whining noise - when the turbocharger compression wheel becomes defective, you may hear a high-pitched squealing or whining noise coming from your engine. Many people mistake compression wheel failure with serpentine or alternator belt slippage, so find the root of the noise before proceeding with a turbo replacement.
Smoke in your car's exhaust - just one small crack or defect in the turbocharger housing can cause small amounts of lubricant oil to leak. Exhaust smoke can also indicate that your turbo's internal seals and gaskets are failing.
Reduced power & performance - it's pretty obvious, but bears repeating: your turbocharger is on your car to enhance engine performance. If you notice even slight signs of lag, or an unresponsive gas pedal, it could be a sign that your turbocharger is in fail mode.
Boost gauge - for those cars with a new turbocharger (on a vehicle without an original turbo), a boost gauge helps track turbocharger performance. This is an easy way to determine if your turbocharger needs replaced.
Inferior gas mileage - if you keep accurate track of your MPGs on a regular basis, a slight dip in efficiency might mean turbo problems.
Those are the signs to look for. Any single reason or combination of these indicators could mean that your car needs a replacement turbo. In a more general sense, the most common form of turbocharger failure is caused by low oil levels. Similar to your engine, a turbocharger requires internal lubricant to ensure all the interior components are spinning efficiently. If your turbo oil level is low, excess heat and friction will soon break down the bearings inside.
The need for a new turbocharger is due to other reasons as well. For instance, a jammed wastegate can cause your turbocharger to perform inconsistently. Problems with the center housing unit - home to crucial oil line connections - can likewise spell doom for your turbocharger.
No matter the signs and symptoms or actual causes of turbo failure, we have the parts, installation kits and turbochargers to get your car performing like new again. BuyAutoParts.com can help get you back on the road again as quickly as possible.
Check out our Turbocharger Best Sellers! Use Shop By Vehicle Above To Find Turbos for Your Make & Model!
If you've done the necessary research and homework and determined the correct turbocharger for a car that did not originally include a turbocharged engine, BuyAutoParts.com can still help you find the turbocharger you need, as many parts & components are compatible with other turbochargers. But please keep in mind: BuyAutoParts.com cannot guarantee the exact fit and performance that our replacement turbos offer.
BuyAutoParts.com not only supplies you with the best OEM equivalent turbochargers and related accessories, but we've also compiled an indispensable library of online learning tools, resources and other features to help you make the most of your new turbocharger purchase! In order to optimize your buying experience, be sure to check out our exclusive Turbocharger Buyer's Guide, which is packed with useful information on which performance attributes are important, how installation kits can minimize labor time and some frequently asked questions (FAQs) on different aspects of a turbocharger replacement project.
Turbocharger Cost - New Turbos and Repairs
If you're looking for a new turbocharger - a high quality turbo that meets or exceeds OEM performance specs - be prepared to pay at least $300 - $400. A critical factor in finding significant savings is where you buy your turbochargers. BuyAutoParts.com offers OEM quality turbos for considerably lower cost than its suggested manufacturer's list price. In fact, our turbochargers are available for up to nearly 80% off the list price. Best of all, you're getting the highest quality replacement turbocharger without sacrificing any extra money.
Labor costs are also a consideration. For added savings, you can install a new turbo yourself. But even total project costs, with labor expenses added to the price of BuyAutoParts.com OEM equivalent turbocharger, are much lower than the suggested price of a new turbocharger. Our research team has concluded that the cost of a BuyAutoParts.com turbocharger for 2007 Subaru Impreza WRX (about $470) with over 2 hours of independent shop labor ($210) - a total cost of $680 - is still $650 less than the price of a list price turbocharger.
For turbocharger repair costs, there is a wide range of labor hour estimates. Your car's make and model is the largest determining factor, but analysis from BuyAutoParts.com has put a low and high point for common turbocharger repairs. Generally, your turbo repair will take anywhere from just under 3 hours to just over 14 hours. If you're not doing the turbocharger repairs yourself, keep in mind you'll pay about $100 per hour for independent shop labor and upwards of $130 per hour at your local dealership.
Online Turbocharger Resources - Part of the Customer-Friendly Experience at BuyAutoParts.com
If you're looking for specific turbocharger parts and components to do a repair project, and not necessarily a complete replacement, our collection of Turbocharger Videos & Articles has a wealth of how-to expertise, including turbo terminology, diagnosing turbocharger failure, and varied multimedia presentations on specific make and model turbocharger repairs. One of our most popular online resources is our Turbocharger Removal & Installation Guidelines, with detailed instructions, step by step methodology, torque specifications and much more. If you've come to the conclusion that your car needs a new turbocharger and you're doing the job yourself (a great way to save hundreds if not thousands of dollars in labor expenses, by the way), this guide is absolutely essential.
For additional help, call a BuyAutoParts.com turbocharger consultant at (888) 907-7225. We can help you select the correct turbo replacement, provide a status update on your recent order and more. Thanks for visiting BuyAutoParts.com!
Related Resources
How To Buy A Turbocharger
If the prospect of buying a turbocharger feels confusing, or if you need any technical tips pertaining to your turbocharger, this buyer's guide is for you.
How Much Does a Turbocharger Cost?
You can go through this page to get an idea on the cost of repairing turbochargers and to know how to save money while buying them.
Turbocharger Installation Guidelines
This link explains the set of guidelines you need to follow for a successful installation of your turbocharger.
How to Diagnose a Failed Turbocharger?
Any defective part on the course of going bad will exhibit certain symptoms. This page can help you ascertain if your turbo is failing.
Turbochargers vs Superchargers: The Great Debate
There has always been a comparison between superchargers and turbochargers over the years; some might even call the two forced air induction parts rivals. This blog post compares the two components through a comprehensive infographic.