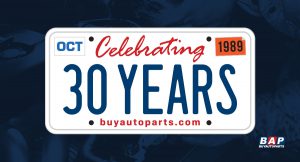 October 2019 marks the 30th anniversary of BuyAutoParts.  We don't have an exact anniversary date, because like many businesses, ours started as a one-man operation working out of our founder's garage. But over the next three decades, this grew into a flourishing wholesale business, then one of the first customer-facing auto parts websites, then a thriving presence on eBay and Amazon. That leads to today, where we are proud to employ more than 100 amazing employees in multiple offices and warehouses, and grateful to have served almost one million customers.
Our founder, the late Jean-Pierre Gilbertz, started our business by rebuilding hard-to-find Audi steering pumps in his San Diego apartment. This soon expanded to include other pumps, as well as steering racks (a relatively new technology at the time) and gearboxes. This business was run from Jean Pierre's home for a few years, until one too many HOA complaints lead to the business renting our first office space on Pacific Mesa Boulevard in San Diego's Sorento Valley, an area also home to medical technology company Cardinal Health, chip maker Qualcomm, and the local offices of Sony, Google and Canon. This location in the center of the county made it easier for us to service customers all over the San Diego area.
Once we had more space and employees, our catalog grew, with emphasis in air conditioning and turbochargers, in addition to our core steering business. After a decade of serving local businesses, we launched our first website in 2001. The goal of BuyAutoParts.com was, and is, to make it easier for customers to find the part they need at the best possible price. This mission continued with the opening of our eBay store in 2008, and an Amazon store in 2014, all while continuing to expand our catalog.
In 2014, BuyAutoParts welcomed a private equity investment in the business.  This investment fueled advancements in technology, catalog expansion, and website upgrades.  All these improvements focused on our customer's experience.  The goal consistently remains to ensure the customer receives the exact correct part, the first time, and to ship the customer's parts faster and at a lower price.
While remaining headquartered in San Diego, in 2018 we opened our largest warehouse yet in Kentucky. This is strategically located near the Louisville airport, the site of America's largest UPS hub, allowing us to provide faster shipping to more of the country. In addition to getting cars on the road faster, this also allows us to participate in Amazon Prime to reach more customers.
BuyAutoParts has been recognized by both the Inc. 5000 / Inc. 500, and the San Diego Business Journal's lists of fastest-growing companies.  BuyAutoParts is a BBB Torch Awards finalist for dedication to customer service and giving back to our community. We are thankful to be able to participate in charity food drives and holiday toy drives every year, and our running club participates in several charity 5K events.
We're continuing to expand our catalog and our shipping network, so we can offer more parts to more people, faster. Need something for your car and can't find it on our site? Send us an email and we'd be happy to source it for you!   We are thankful for our partnerships with the industry's best vendors and suppliers.  We are proud of our family of employees who have made this business what it is today.  Most of all, we are grateful for our customers who put their faith in us to help them with their auto parts needs over the last 30 years.  Here's to 30 more years to come!