How To Buy A Steering Rack
---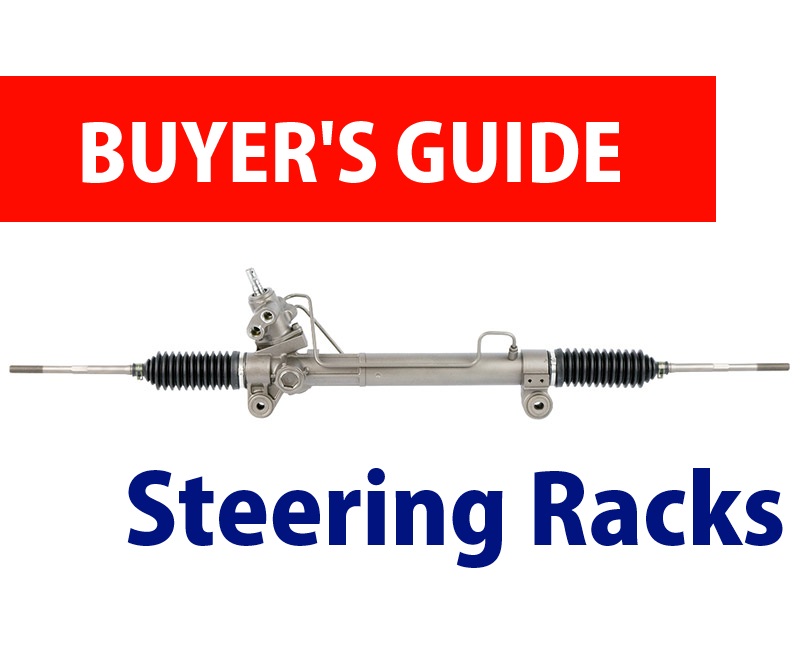 Due to the many options available, buying a steering rack can sometimes be a laborious task. Our motto here at BuyAutoParts.com is to make it easy to buy auto parts, so we have compiled our decades of experience and knowledge all in one place. With this Buyer's Guide, we will answer whatever questions you may have on how to buy a steering rack, how steering racks function, and how to differentiate between the options in order to decide which steering rack is right for your vehicle.
What is a steering rack?
Also known as the rack and pinion, the steering rack is the assembly in a vehicle which turns the vehicle's wheels from side to side in response to when the driver turns the steering wheel. In fewer words, the steering rack is what helps you steer when you drive. In heavier vehicle applications, this rack and pinion is often replaced by a steering gearbox. There are several different types of steering rack options available, power steering, manual steering, and now electric steering. You can find more information here: What Is A Rack and Pinion?

What kind of rack did your vehicle come with from factory?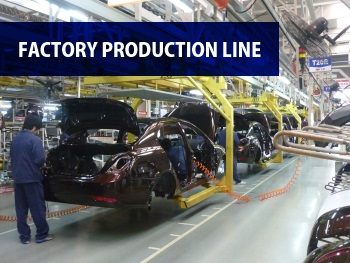 Manual Steering Rack

Manual steering racks do not have power-assist, so steering is more laborious for the driver when making tight turns. Oftentimes, car enthusiasts will opt for manual steering for track cars, as the application is lightweight and the response is ideal for racing. From the factory, stock manual steering racks are more common in older vehicles. Since most of the manual steering racks on the market are for older applications, we will most likely carry only rebuilt options. We also sometimes carry power-to-manual conversion kits (more information can be found about our kits below).
Power Steering Rack
For a regular commuter car, the optimal form of steering is power steering. Power steering racks will have an extra component, the power steering pump, that will supply high-pressure fluid to rack, providing hydraulic power assist. This makes steering significantly easier for the driver.
Electric Steering Rack
Electric power steering (EPS) racks are like power steering racks, except it is powered electronically. The hydraulic assist that you would normally get from the steering pump is now replaced with a computer-controlled electric motor.  This is the newest system that automakers are incorporating in their models, since eliminating the pump will increase gas mileage by about 1 mpg.
For extremely old or rare vehicles, sometimes cores are difficult to find. In the case that we do not have any cores available, you do have the option to send us your old core for us to rebuild. As long as the housing of the rack is not damaged or cracked, we can rebuild the rack for you. Typically the turnaround time for rebuilding steering racks is 2 weeks. Please give us a call at 1-888-875-0023 if you have any additional questions about rebuilding your old steering rack. The diagram below is what we check every time we rebuild a rack. Click here for more information: How a Steering Rack is Rebuilt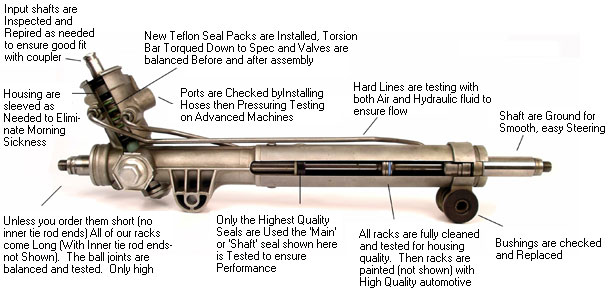 Finding Your Steering Rack's OEM Part Number

If you cannot find your steering rack by searching your vehicle's year, make and model, the best way to find the right steering rack for your car is by searching by the Original Equipment Manufacturer (OEM) part number off your stock steering rack. The OEM part number can be found directly on the part itself, usually stamped on a metal tag. You can also call a dealership with your Vehicle Identification Number (VIN), and they have the ability to look up and provide you with the OEM part number. If you need any further assistance with how to buy a steering rack, please give one of our steering specialists a call at 1-888-875-0023.

    

Steering Rack Conversion Installation Kits

We carry some conversion kits where you can convert your manual steering rack to power steering and vice versa. Click on the installation kit option and all parts included will be pictured and listed in the product description section.

Please give one of our steering sales specialists a call at 1-888-875-0023 and we will be happy to assist you with finding the right conversion kit for your car.

Take a look at BuyAutoParts.com's shipping and warranty policies.

Frequently Asked Questions

How much does a steering rack cost?

The cost of the steering rack depends on the type of rack, condition, and uniqueness. If your car has a very common rack, it's possible to find a remanufactured or even new steering rack for only a few hundred dollars. If you have a rare or old vehicle, prices can jump significantly higher. Electric steering racks typically tend to cost the most. If you're on a budget, we recommend purchasing a remanfactured steering rack. We've been steering specialists for years and have an excellent track record for all of our steering racks. Here is a related article for more information: How Much Does A Steering Rack Cost?

How long does it take to install a steering rack?

Depending on the mechanic's experience, the installation should take about 3 hours. If you're planning on doing the work yourself, we suggest to put aside about 6 hours and take your time. Labor costs will vary depending on the mechanic.

Are steering racks easy to install?

It all comes down to how comfortable you are with working on your car. If you have
little or no automotive knowledge or experience, we strongly recommend you take this to a certified mechanic to have the part properly installed and avoid possible failure or further damage to your vehicle. A bad installation can lead to much more costly repairs, so you should not risk it.

Do you include the tie rod ends with the steering racks?

Some steering racks will come with the inner tie rod ends and/or outer tie rod ends. Some steering racks will not, but we will always specify in the product description. Unless we state that we've used a generic image for the steering rack you want, all of our products come exactly as pictured.

The steering rack I want to purchase has a core charge. How do I send back my core?

You can use the same box we used to ship you
your new steering rack. Cores must be returned within 90 days from the invoice date to ensure full credit. All cores must be shipped to 9980 Huennekens St Ste. 200, San Diego, CA 92121. Cores must be in rebuildable condition to receive full credit. All good cores will be refunded within two weeks of us receiving the core.  Here is more information on Core Returns.